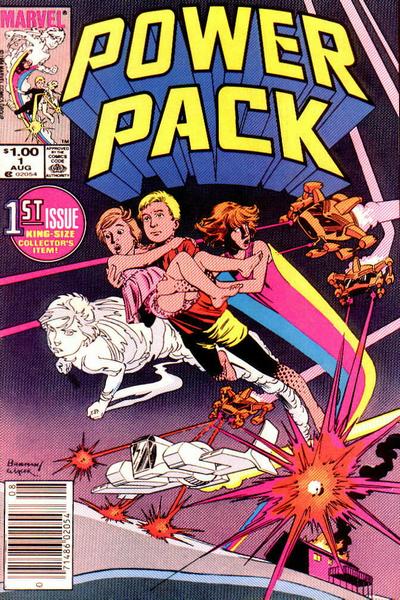 Power Pack #1, Marvel Comics, August 1984
I just read some report that the top CEOs from companies like Disney, Warner and Fox gathered and announced unwavering enthusiasm for comic book inspired movies. Marvel's CEO Robert Iger said there would be no slowing down of rolling out new Marvel related movies for the foreseeable future. This is great news for fans of these movies and also great news for budding comic book speculators/investors.
The trick will always be identifying properties that are now dormant but that may one day be developed into other media, be it cartoons, TV shows, movies.
So to celebrate this positive news from the industry big wigs I thought I'd take a stab at identifying a potential future winner.
This week I'd like to shine the Spotlight at Marvel's August 1984 release, Power Pack #1.
Power Pack was launched in the Copper Age (early to mid 80s) and it enjoyed a healthy fan base and the run lasted an impressive 62 issues. I read that it was only when Marvel tried to change the comic to a more adult theme around issue #56 that things turned sour. The book was cancelled half a year later.
Power Pack was a kid's themed super hero book, it was actually the first Marvel book to have kid heroes act independently of adults and from what I've gathered it seems like the youngest superhero team out of Marvel, Katie, the youngest, was 5 when she started the gig and Alex, the oldest, was 12. The team consisted of 4 siblings who kept their super powers a secret from their parents
The title explored a lot of kid related topics like bullying and running away, the team appeared in projects alongside Marvel heavyweights like Spider-Man.
There have been Power Pack appearances over the past decade but nothing ambitious or forward thinking. In my opinion the property is a good candidate for development. Everything seems to be skewing younger and younger and this team is pretty young! I think Marvel is thinking about Power Pack, I think this premise will fit in nicely somewhere. I'm buoyed by the fact that Marvel loves to draw on canon. Power Pack is part of Marvel history, there is a built in audience, name recognition and a proven track record and these are all good reasons to dust it off the shelf and make something current and special out of it.
These things are cheap to pick up, probably still find #1s in cheapie bins, if you go that route make sure you pick nice, tight square copies. The last CGC 9.8 sold for $59.
The 46th Overstreet price breaks for this book is $5 in the 9.2 grade split.
Strengths that make this comic a good long-term investment are:
1st appearance of Power Pack
Cheap, cheap, cheap