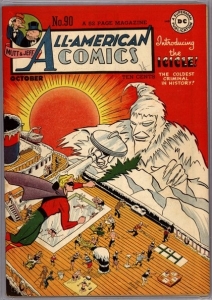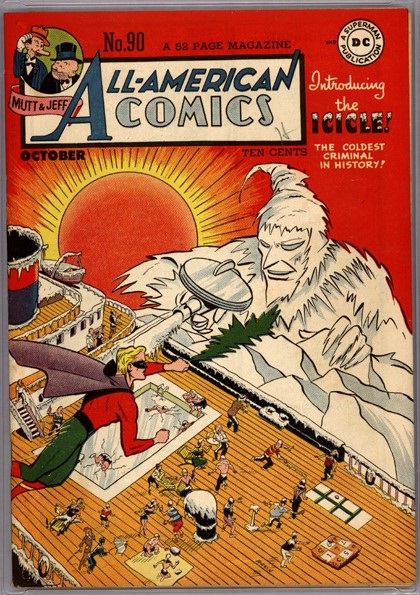 All-American Comics #90, DC Comics, October 1947
I mentioned I thought I was on to something a few weeks back in Spotlight #308. In that Spotlight I wrote that I noticed a trend towards what I called "nouveau iconic" Golden Age covers. These are dynamic covers where our heroes get second billing in the cover art to a prominent villain. I mentioned the villain is usually on the right of the cover.
The Undervalued Spotlight shines the light on the second comic discovered using Durajlija's Equation for Iconic Golden Age Covers (DEIGAC), All-American Comics #90.
All-American Comics #90 fits the bill perfectly: the eye catching cover and the great looking villain – on the right side!!
Keen minds will note that this cover was produced in October 1947, a month before the Flash Comics #89 featured in Spotlight #308.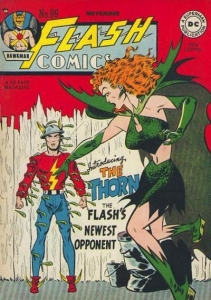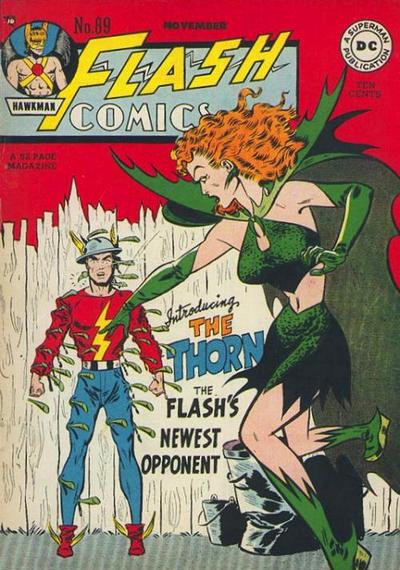 All-American Comics #90 gives us more than a fancy cover. The book introduces the Icicle, the Coldest Criminal in History. You don't need too much of an imagination to draw a line to Mr. Freeze and Captain Cold a decade or so later.
All-American #90 also comes from that late 1940s era where hero titles were dying off and print runs were smaller. Issues from this era are definitely a challenge to hunt down today.
There can't be much downside to this book: picking up a solid copy gets you in the spot you want to be, picking up great comics with lots of upside well before the upside.
This would be a great pick up. Get one if you can.
The 46th Overstreet price breaks for this book is $947/$1624/$2300 in the 8.0/9.0/9.2 grade splits.
Reasons to buy this comic book as an investment.
First appearance the Icicle
Soon to be an iconic cover!