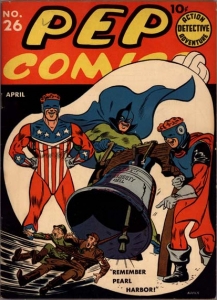 Pep Comics #26, MLJ Magazines, April 1942
It's such a pleasure to introduce Gene Lomoriello as this week's guest Spotlight writer. Let's hope this is the 1st of many from Mr. Lomoriello. Gene has been commenting on the site as readcomix and freely sharing with us his useful observations and insights. Gene's knowledge shines through but even more impressive to me is his sense of community and good will. Gene certainly picked a monster for his first foray, offering up a strong argument for this gem of a comic. Now let's turn things over to Gene:  
Let's conduct a little thought experiment. Let's imagine a "What If?" scenario in which Stan Lee and Jack Kirby introduce only three out of the four members members of the Fantastic Four in FF#1. Imagine the details as you like; perhaps the FF are not actually shown until after the crash, and one of the four is missing in the aftermath of the crash. Doesn't matter who; take your pick.
Then let's say that said fourth member turns up alive a few issues later, to the shock of the others. He or she returns telling a tale of waking far from the crash site, temporarily amnesiac, and reveals their own fantastic powers to the other three.
Wouldn't the issue in which the fourth member is finally introduced be the second most valuable issue of the run? Yes, I realize that the first 10 issues are practically all keys, but regardless wouldn't the intro of one of the core four push whichever issue higher in value than it already is?
It is based on this premise that I offer my pick for this week's Undervalued Spotlight, Pep Comics #26.
Pep #26 is the introduction of the fourth core member of the Archie Universe, Veronica Lodge, yet it is only the eighth most valuable Golden Age Archie comic, with Pep #'s 22, 23, 34 and 36; Archie #1, 2 and 3, and Jackpot #4 all outstripping it.
Of course, Pep #22 starts it all, introducing Archie, Betty and Jughead in the same six-page tale, and Jackpot #4 was released right on its heels, and Pep #34 is a classic cover and #36 is the first full Archie cover, and Archie #1-3 are all listed in the Guide as scarce, but…eighth??? For the first appearance of arguably one of the most important female characters in comics history?
Veronica is certainly one of the most enduring – her 5,596 appearances according to ComicVine is more than Wonder Woman, more than Lois Lane, more than any other female character except for…Betty Cooper.
More importantly, Veronica Lodge's pivotal role as cornerstone of the Riverdale universe cannot be overstated. Without her, there is no Betty & Veronica, no love triangle, no source of endless dramatic/comedic tension on which so many Archie tales are based.
If Reggie is the closest thing the Archie universe has to a Dr Doom or Darkseid, Veronica is the closest thing to the Sub-Mariner in that she, in an Archie universe kind of way, plays the anti-hero role, a sometimes friend/sometimes foe who is always on the side of right when the chips are down.
Veronica's intro completes the birth of the Archie universe, makes it all possible, yet it is eighth among Archie books in the Guide!
Pep #22 aside, I suppose one could argue scarcity is the factor favoring the others, but it is far from a clear-cut case. The Gerber index gives Pep #26 a 5, same as #23 and #36 and Archie #2, and higher than the 4 assigned to Pep #34, so it's in the middle of the pack, scarcity-wise, by the Gerber index.
But the CGC census (while not complete, another indicator) shows only 12 graded copies, by far the fewest of the eight! Pep #23 is next, with 20% more graded copies at 15 on the census. From there, it's Pep #34 (19 graded), Pep #22 (23), Pep #36 (25), Archie #3 (26), Archie #2 (28), Jackpot #4 (30) and Archie #1 (51).
Given the relative apparent scarcity of this issue and the importance of Veronica Lodge in comics history, I contend it is the second-most important Archie comic of all time behind Pep #22. Of course it's possible to view it differently, and I could see arguments being made for a few of the others, but not all six other Archie comics that are currently priced higher.
At its current Overstreet valuation of 8.0 at $5,132; 9.0 at $9,066; 9.2 at $13,000, this may be the most undervalued first appearance remaining of a top-tier character introduced in the Golden Age.
To recap, reasons for the Pep #26 pick:
 Introduces Veronica Lodge, the only major Archie character not introduced in Pep #22
Ranked eighth in price among all Archie comics
Only 12 graded copies on CGC census, fewer than all Archie books priced higher
Readcomix is the eBay and Heritage Auctions handle of Gene Lomoriello, a long-time comic book collector from New York's Hudson Valley region. He has written for Overstreet's Comic Book Monthly and Golden Age Quarterly, and Jon Warren's Comics Source. He has interviewed and profiled numerous comics creators including Victor Gorelick, the late Herb Trimpe, Jim Starlin, Dan Chichester, Wendy and Richard Pini, and Joe Sinnott, for whose profile he also interviewed Stan Lee.