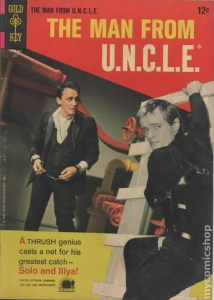 Man from U.N.C.L.E. #7, Gold Key, July 1966
I've bought and sold a lot of comic books over the years and yet there are very few I regret selling.
Yes, there was that nice tight Tales of Suspense #39 I sold for $4,000 back in 1998, no exaggeration when I say it was an easy 9.4. But that lament is based on value and as long as I rolled that $4,000 into other books and kept doing that I might be almost just as far ahead.
The ones that really sting are based less on value and more on the joy of ownership. With many of these I realized my mistake only after I sold them.
A couple of years back my buddy Chris was leafing through some of the books in my collection. He stopped cold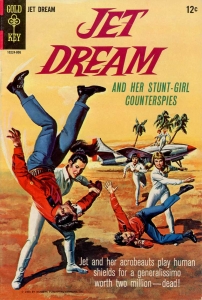 when he reached my beautiful high grade raw copy of Jet Dream #1. "Walt I'm buying this, how much"?
A week later I asked him if I could buy it back but there wasn't a chance, he had already framed it and hung it up in his man cave.
Every time I visit Chris I have to make the trip down to the basement to enjoy what was once mine. It's like Chris is giving me visitation rights, we always share a laugh about this book and I'll admit it belongs more on the wall of Chris's man cave that in a comic box in my basement.
Recently by chance I learned that Jet Dream had a nice little run in Man from U.N.C.L.E. and this week I'd like to shine the Undervalued Spotlight on Jet Dream's 1st appearance in Man from U.N.C.L.E. #7.
The Jet Dream stories were 4 page back up stories starting from issue #7 running right through the last issue in the series #22 (though #21 and #22 were reprints of earlier issues).
Jet Dream and her stunt-girl counterspies were obviously influenced by Pussy Galore and her all female Flying Circus from the James Bond Goldfinger movie. The team consists of;
The team leader Jet Dream
Petite, a connoisseur of perfumes and fine wine
Marlene, the tough one and with a mind as sharp as a whip
Ting-a-Ling, the South Seas beauty
And my favorite, Cookie Jarr, highly skilled athletically and when the action is over she's a seductress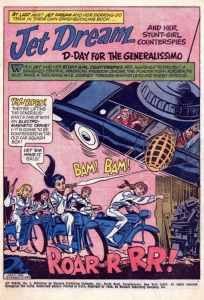 James Bond inspired an espionage explosion in comic books, Black Widow the Russian Spy, Nick Fury Agent of Shield and yes Jet Dream and her stunt-girl counterspies.
These stories were great fun and the nice 16 issue run makes for a great collecting strain and you can cap the Man from U.N.C.L.E. run with a Jet Dreams #1 which features a full 20 page adventure, just don't expect Chris to get up off of his.
Back in 2016 a CGC 9.2 copy of Man from U.N.C.L.E. #7 sold for $84 while a 9.6 copy got $102. There doesn't seem to be any premium for this book at as of this post, a 9.2 copy of #8 also sold for $84 back in 2016.
Man from U.N.C.L.E. #7 is an obscure mid 1960s 1st appearance of a beyond cool all girl espionage team, it can be had for cheap and it's the type of book/run that can attract some niche demand with just a little awareness.
The 46th Overstreet price break for this book is $33/$57/$80 in the 8.0/9.0/9.2 grade splits.
Reasons to buy this comic book as an investment.
1st appearance of Jet Dream and her Stunt-Girl counterspies
Can be had for cheap as of this post