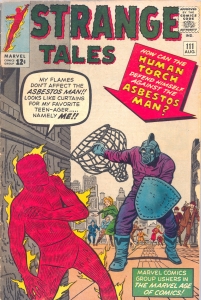 Strange tales #111, Marvel Comics, August 1963
I was set up at a comic con this past weekend and had the pleasure of kicking back one evening with a few friends and a few too many drinks.
One of the cool discussions we got into was the value of comics with second appearances. Were all second appearances undervalued? Prices of 1st appearances are through the roof, prices of random iconic covers are through the roof, prices of 1st issues (not necessarily 1st appearances) are generally through the roof.
Why are second appearances mere fractions of some of these prices? Is the second appearance of a character something that will one day be seen as way more significant than it is today? Will the astronomic prices of 1st appearances eventually force second appearance prices way higher?
If anybody knows the importance of second appearances it's me! My stunning Spotlight #79 broached the subject here at CBD and I'm not sure but I think it's my most read Spotlight ever, what I am sure of is that it was the one I got beat up the most on.
So today I decided to take a collecting strain, early Marvel keys, and run a second appearance exercise. As is, which of these is the most undervalued? If all of these will eventually appreciate which has the most to gain? In order to pick I had to play them off against each other. With early Marvels I stuck with the 9 stalwart in continuity characters Spider-Man, Fantastic Four, Hulk, Ant-Man, Iron Man, Thor, X-Men, Doc Strange and Daredevil.
I took a peak at how their second appearance issues are doing and was able to decide that this week's Undervalued Spotlight should shine on Strange Tales #111.
Strange Tales #111 features the second appearance of Doctor Strange and as an added bonus features the 1st appearance of Baron Mordo. Baron Mordo was one of the stronger and more enjoyable characters in the recent Doctor Strange movie. The movie actually served as a Baron Mordo origin as well, he's a strong character and we'll be seeing more of him in the cinemas for sure.
Of my 9 characters to compare I was able to toss 3 out right away because they were hard to compare against, Spider-Man #1 is seen as a key in its own right, Tales to Astonish #35 is inconclusive because some see #36 as the second appearance if you count the Ant-Man costume as the 1st appearance and not Hank Pym and the X-Men are not the same team today so the book is tough to judge.
Right away I'll cede that FF #2 and Hulk #2 are the heavyweights and enjoy collecting community respect. I've always been uncomfortable with Thor, seeing him more as a direct adaptation of a character from ancient mythology in the public domain.
This left me with Tales of Suspense #40 and Daredevil #2 as what I saw as the closest comparables
There are 67 CGC graded copies of Tales of Suspense #40 at 8.0 or better compared to the abundant 218 CGC copies of Daredevil #2 at 8.0 or better. My Strange Tales #111 has 52 showing up on the CGC census at a grade of 8.0 or better.
The Overstreet Price Guide has Strange Tales #111 as the cheapest of all 2nd issues on my list at $1,500 in the 9.2 grade. The later published and more plentiful Daredevil #2 has a Guide value of $1,950 in comparison.
Compared to the August 1963 Strange Tales #111's publish date contemporaries it really lags. Tales of Suspense #40 was April 1963 and has a $5,800 9.2 Guide value while November 1963's X-Men #2 (with not even a current team) has a 9.2 Guide value of $4,500.
In the end it comes down to the strength of the character and I'm convinced Doctor Strange belongs up there with the rest. Graded copies of Doctor Strange's second issue are at this moment among the scarcest of all the second issues but for some reason the book lags in the marketplace.
As I've said before, issue #s will matter less and less in the future but fundamental facts like second appearances should end up mattering more and more.
On the market the book has fallen considerably since last summer but in my experience books like this usually lag after the movie hits. The thing to remember is that the movie was a hit, the character has been accepted into mainstream pop culture. If you can't afford a Strange Tales #110 why not consider a nice tight copy of Strange Tales #111.
The 46th Overstreet price break for this book is $432/$966/$1500 in the 8.0/9.0/9.2 grade splits.
Reasons to buy this comic book as an investment.
2nd Appearance of Doctor Strange
1st Appearance of Baron Mordo
2nd appearances are undervalued in general