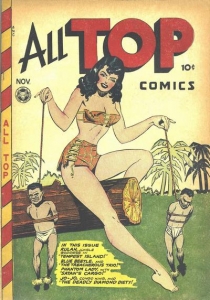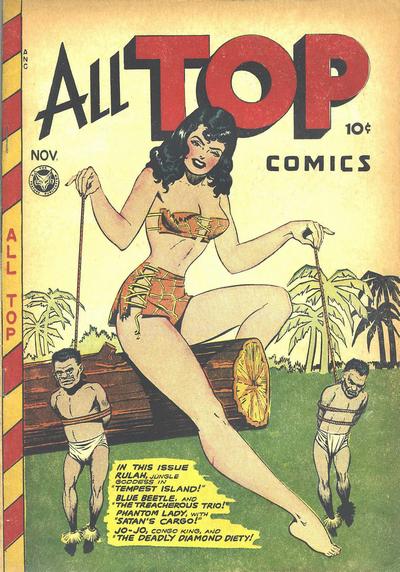 All Top Comics #8, Fox Feature Syndicate, November 1947
It seems I've been neglecting the Golden Age of comics lately, only 2 of my last 19 posts have been devoted to what is probably the best hunting ground for undervalued comics.
This week I'll address this error in judgment with inspiration that came from my good buddy Jay and his to date fruitless quest for a solid copy of Blue Beetle #54, you know the one with that much sought after Kamen cover.
Artist Jack Kamen famously started his Blue Beetle run with issue #47 (August/47) and was joined by none other than the legendary Matt Baker. Their "good girl art" approach found fans immediately and before long the pair jumped over to add some good girls to the funny animal title All Top Comics.
This week's Undervalued Spotlight shines on All Top Comics #8, the 1st Kamen and Baker issue.
All Top Comics #8 leaves Cosmo the Cat behind and adds new features like Blue Beetle, Rulah and the Phantom Lady. You get fantastic Matt Baker art including his 7 page Phantom Lady story "Satan's Cargo".
When I was a young gun comic guy back in the 80s All Top Comics #8 was revered as one of the classic covers of the genre. I remember this being a monster book and reserved for collectors in the know. I owned a few way back when but was able to sell them quickly and always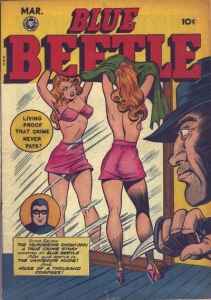 with a healthy mark up over guide.
Somewhere along the way All Top Comics #8 lost its position in the upper echelon of iconic good girl art Golden Age covers. The cynic in me will point to the fact that on the cover of All Top #8 it's the girl that's pulling all the strings, today the markets seems to favor damsels in distress covers.
Recent sales (a low grade and a high grade copy) show graded copies of All Top Comics #8 getting about guide and digging back for data a decade old I found the book has hardly moved an inch. Contrast that to, say, Jay's Blue Beetle #54 which trades at 2.5 x Guide and has appreciated by at least that much over the past decade.
For me All Top Comics #8 remains an iconic Kamen cover and one of the stellar examples of the genre. The Matt Baker connection to the issue and subsequent run just adds to the allure.
What the appreciation in value of comics like Blue Beetle #54 shows is that new collectors and investors are rediscovering these amazing Golden Age covers. At the moment one of the best of the best is not getting the love, I say there's no better time to add this classic to the pile.
The 46th Overstreet price break for this book is $1950/$3375/$4800 in the 8.0/9.0/9.2 grade splits.
Reasons to buy this comic book as an investment.
Classic Keman cover
Matt Baker art