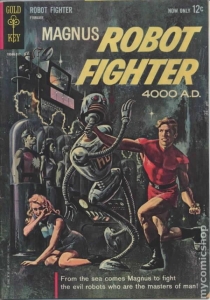 Magnus Robot Fighter #1, Gold Key, February 1963
A small stack of Gold Key's came into the shop recently, the best book in the bunch was a beat up copy of this week's Undervalued Spotlight pick Magnus Robot Fighter #1.
I poked around trying to come up with a price and was surprised at how low the value is in the Overstreet guide and how little graded copies have been getting according to the GPAnalysis site.
Magnus Robot Fighter #1 should be way bigger that it is.
The 1st Gold Key series was launched in the early days of the Silver Age and ran sporadically for 46 issues until 1977. In 1991 Valiant famously relaunched the title under much hype and much more speculation. The Valiant run lasted 64 issues ending in 1996. Acclaim then published an 18 issue run in 1997/98. Dark Horse was next with a 4 issue mini-series in 2010/11. Most recently (2014/15) Dynamite published a 12 issue run of Magnus.
Magnus Robot Fighter has been around, there is a large canon, there's brand recognition and there has been through all these series' mentioned above a chance to build multiple fan bases. The book appeals to Silver Age fans, Bronze Age fans, Valiant era fans and modern day fans.
Published in February 1963 this book predates most of the Marvel stable including Spider-Man, Iron Man and the X-Men. That fact alone doesn't mean much but like I said above the character has been around a long time and he's stayed around albeit sporadically.
There are 92 CGC Universally graded copies as of this post, a 9.0 will get you into the top 10 copies. I'd consider anything at 8.0 or above as investment grade for this book. The best copy I can find on line as I type this is a CGC 6.5 for $459.
Recent sales include a CGC 5.0 going for $161, a 7.5 for $489, an 8.0 for $657 and an 8.5 for $715. All bargains as I see it.
The 46th Overstreet price break for this book is $285/$641/$1000 in the 8.0/9.0/9.2 grade splits.
Reasons to buy this comic book as an investment.
1st appearance of Magnus Robot Fighter
Long lasting character with good future prospects