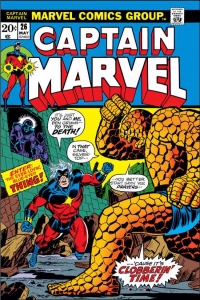 Captain Marvel #26, Marvel Comics, May 1973.
I was chatting with one of my pals at the shop the other day and he was telling me about a nice little comic pick up he had just made. War Is Hell #9 is the book he snagged, he told me it was hot book because of all the spec around Thanos, the Infinity Gauntlet and more specifically Death or at least it's female manifestation that has Thanos all weak in the knees.
Thanos' obsession with Death makes Jay Gatsby's obsession with Daisy look like puppy love. Of course Daisy is not an abstract entity but it may be all the same, neither "girl" seems interested in "her" suitor. Get as rich as you can, collect as many stones and and kill as much of the Universe as you can, it may be all for naught!
Still, all this makes fantastic speculation about "Death's" eventual introduction into Marvel's Cinematic Universe.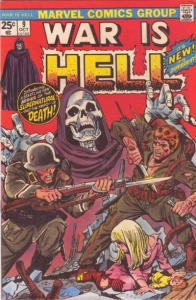 I think my rambling above serve as an excellent segue into this week's Undervalued Spotlight Captain Marvel #26.
Captain Marvel #26 brings a heck of a lot, it's the 2nd appearance of Thanos and his 1st cover appearance it's also Jim Starlin's 2nd book of his epic Cosmic Marvel saga (which began in Captain Marvel #25). More importantly to this post Captain Marvel #26 is the 1st appearance (and 1st cover appearance) of Death.
This whole Death concept is obviously not flushed out in this issue but this is where it starts, this is the issue where this character/entity is introduced later to be expanded on to the point where the character may be central to the whole Marvel cosmic movie saga.
Captain Marvel #26 has had some value for a while thanks to the Starlin/Thanos selling points.
I've seen a bit of movement on this book in very recent sales and that may obviously be the speculation setting in. The book is still plentiful raw and it may be a good idea to snag a few nice, crisp, tight copies.
The 46th Overstreet price break for this book is $51/$96/$140 in the 8.0/9.0/9.2 grade splits.
Reasons to buy this comic book as an investment.
1st appearance of Death
2nd Thanos Appearance
1st Thanos cover
1st Death cover!