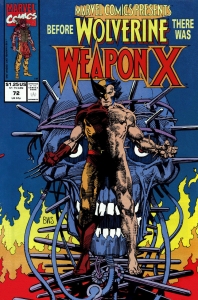 Marvel Comics Presents #72, Marvel Comics, March 1991.
I was talking comics with a pal of mine and somehow we got on the topic of books the market is ignoring. We're both opinionated which can sometimes make for difficult conversation. Luckily comics aren't quite politics and the passions they inflame have a hard time spreading across a convention floor.
We poked holes in each others early salvos but came across our first full consensus when he came out with this week's Undervalued Spotlight, Marvel Comics Presents #72.
Barry Windsor-Smith was an absolute tour de force on this book getting credit for the pencils, inks and colors on that fantastic cover. Windsor-Smith also went all out on the 8 page Weapon X story claiming credit for the script, pencils, inks, colors and even co-credits as letterer.
Marvel Comics Presents #72 introduces Carol Hines, Abraham Cornelius and Professor Thorton, all part of the Weapon X project. These weren't bit players discarded after this story art, between the 3 of them they appeared in over 300 comics!
The main driver of value for this book comes from it being the start of one of the most important arcs in Marvel's history, at least on the Mutant side of the MU. There's too much to tell with this arc and with all the retcons it triggered, look it up if you aren't already an expert.
This book is dead as far as the markets are concerned, a CGC 9.8 sold in May this year for $65 while the last CGC 9.6 only got $26 in April this year. Tough sell.
My pal Chris and I tried to figure out why this book is doing so poorly, we both thought it might be an awareness issue. The book is buried in an extremely ignored title and perhaps new people coming into the market just aren't aware of the book. Chris was successfully buying the book up cheap and selling it for a lot more, his trick to success? He's tell his buyers about the book, often the response was "really? – I'll grab one"
I found a couple of 9.8s online starting at $75. I say you hunt down a bunch of raw copies, just make sure they are tight, crisp and square to the corners!
The 46th Overstreet price break for this book is $9/$12/$15 in the 8.0/9.0/9.2 grade splits.
Reasons to buy this comic book as an investment.
Prologue to classic Weapon X story arc (Marvel Comics Presents #72-84)
Barry Windsor-Smith showcase including a fantastic cover
Way too cheap as of this post