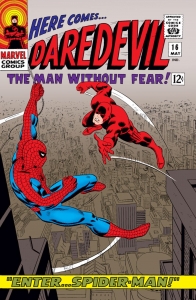 Daredevil #16, Marvel Comics, May 1966.
The back issue comic book market is robust these days. It seems there is healthy activity in almost all segments of the market, Golden, Silver, Bronze, Copper and Modern Age books continue to break records, the high grade market is nuts, the variant market is nuts, prices for key first appearances are beyond nuts. It's safe to say the market has gone way past where most of us old timers thought it could go.
I'm going to interpret all these new buyers entering into the market clamoring for the good stuff" as a very healthy and sustainable trend. The only caveat I'd throw in is that the new buyers like to float in and out of books at a quicker rate than those collectors and investors of the old days meaning there is a bit more volatility in the market.
Prices for key 1st appearances seem to move farther out of reach by the hour, this has led to a healthy spillover of buyers looking around to see what else merits collecting. Times like these bring tons of opportunity to mine the comic book heaps of the past for little gems that have long been stagnant.
This post will dig up one of those old stalwart books that has for some reason been forgotten about in this chaos for all things 1st, different and perfect. I present this week's Undervalued Spotlight as Daredevil #16.
Daredevil #16 is just the tip of the iceberg, there are so many more we'll explore over future Spotlight posts.
Daredevil #16 is the 1st John Romita work on Spider-Man, he also worked on #DD #17 and then very famously moved over to Amazing Spider-Man with #39. For me Spider-Man will always be that 'perfect' superhero creation delivering originality, mass appeal, approach-ability and a hundred other things that the market at large is heeding these days as Amazing Fantasy #15 (Spidey's 1st appearance) sets new price record after new price record.
John Romita is looked upon by many as the definitive Spider-Man artist. Many can argue that others drew Spidey 'better' but it's hard to argue the stamp Romita put on Spider-Man, Romita more than any other artist defined the character.
And that cover! Covers sell comics and they also deliver value in the marketplace. The gorgeous reds and blues of Spidey and Daredevil set atop the grey cityscape below is stunning, especially in high grade.
Again, this Spotlight is focusing on a comic that has always enjoyed demand but for whatever reason has stayed flat price wise over the past several years. My argument is that books like this are starting to break out. I can point to an example like Lois Lane #70, which enjoyed a price appreciation two decades ago but remained flat on the market for what appeared a lifetime but the book started reviving a few years ago and has enjoyed steady double-digit growth in value since.
Daredevil #16 is also poised for a nice little appreciation in value in my view. Over the past 3 years Daredevil #16 has floated up and down between $430 and $525 (with what looks like an $890 anomaly 2 sales ago). Copies graded 8.0 were trading for $225 in 2012 and are trading for $265 today, bargains for sure but I'm recommending you pay a bit more and aim for those tight, crisp and square to the corner 9.2s and 9.4s.
Daredevil #16 is a book with a hook, actually many hooks, it's early Marvel, it's a Spidey cross-over, it's Romita's 1st Spidey work, it's boastful of a fantastic cover and it's been languishing on the fringes of the market for too long.
The 46th Overstreet price break for this book is $124/$275/$425 in the 8.0/9.0/9.2 grade splits.
Reasons to buy this comic book as an investment.
1st John Romita Spider-Man
Fantastic cover