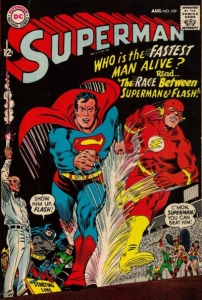 Superman #199, DC Comics, August 1967
I'm working feverishly trying to price up comics for an upcoming con. Today I hit a real wall like in a large,broken run of Superman. The stack started at #150 something and ended just after #300. Listen, that was pure drudgery! I put book after book in the $5 bin pile even tough the books would Guide out to $15 and sometimes $20, it's tough selling Sups these days.
One book did stop me in my tracks though an it was a lovely (7.0 ish) copy of this week's Undervalued Spotlight pick Superman #199.
It actually looks a bit nicer than a 7.0 but that darn black cover shows every small crease and flaw on the cover and along the spine.
Superman #199 is a fantastic comic, it has so much going for it and it will be appreciating in value in the coming years.
Look at that jet black cover with the two principle heroes (Sups and Flash) so prominent and in full action pose, it's a true Carmine Infantino and Murphy Anderson classic. Hold out for high grade on this book if you are looking to invest. There are only 29 graded at CGC 9.2 or better as of this post and that's out of a total of 412 graded, this book is tough in high grade.
Superman #199 also represents the 1st Superman/Flash race, it's the 1st of a 4 issue arc that includes Flash #175 and World's Finest #198 and #199. This is actually a popular collecting strain, its small with only 4 issues but it's hard to resist.
At the top I mentioned how Superman was a slow title relative to so many other titles that are doing well. Collectors and investors have moved away from title based runs and have moved on to one off issues of importance. Superman #199 fits right in here, people are adding it to their piles without the guilt of not owning the other issues around it.
The last 9.2 sale was back in 2014 but recent sales of an 8.5 and a 9.0 show the value stagnant and even falling from the 2015 levels.
So Superman #199 has a fantastic cover that's pitch black, it has a great hook as the 1st issue of Superman/Flash race. More and more collectors are satisfied with just this issue and they are choosing not to collect the run. High grades are elusive.
Go out and snag yourself a nice, crisp, tight and square to the corners copy, hopefully a 9.2 the sit back and watch it grow in value!
The 47th Overstreet (brand new) price break for this book is $259/$580/$900 in the 8.0/9.0/9.2 grade splits.
Reasons to buy this comic book as an investment.
1st Superman Flash Race
Standout cover, black and tough in high grades