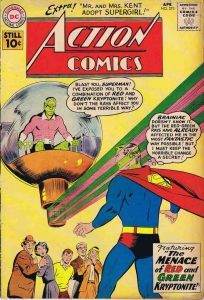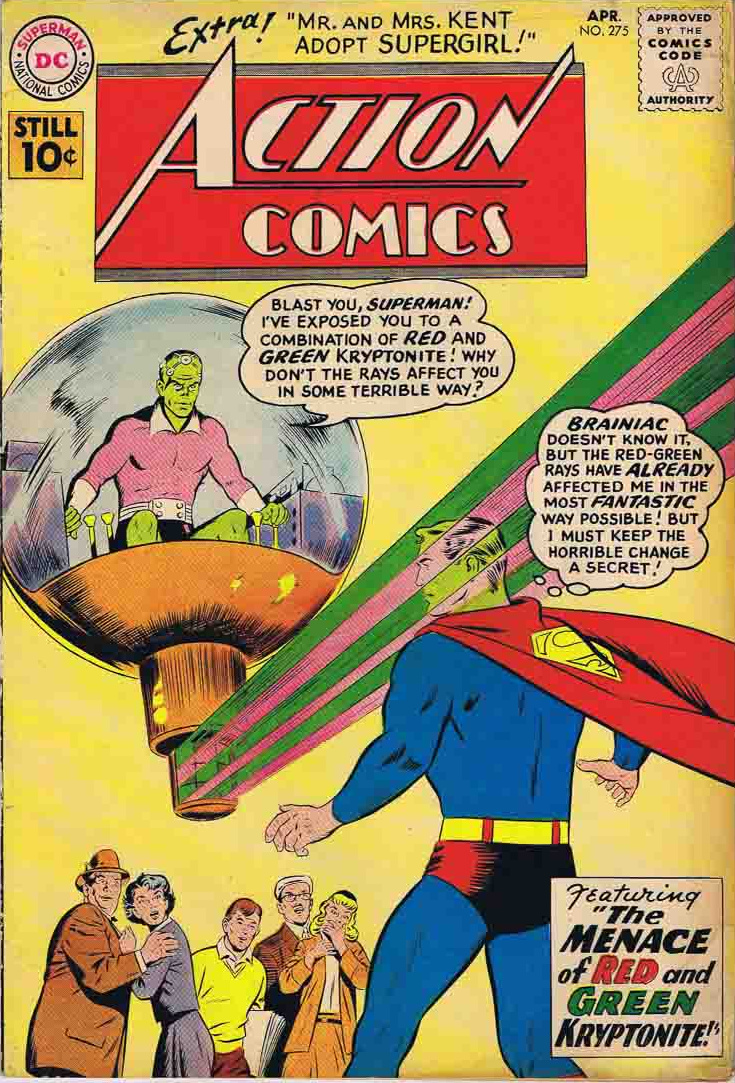 Action Comics #275, DC Comics, April 1961
Let's stay with Superman one more week.
One of the hottest Silver Age DC's on the market is Action Comics #242 featuring the 1st appearance of Brainiac and the 1st Lost City of Kandor. Action #242 has it all, an introduction of a major Superman villain, a fantastic cover featuring our villain and the introduction of the fantastic concept that is the City of Kandor. Unfortunately Action #242 has priced itself out of reach for most of us.
I have long had Lois Lane #17 on my list of future Spotlights, it is after all the 2nd appearance of Brainiac. I even considered Superman #141 (3rd app) as a candidate but both these books above feature Brainiac as either a cameo or a behind the scenes entity and neither issue has Brainiac on the cover..
That's why this week I'd like to shine the Spotlight on a book that brings us some real Brainiac, Action Comics #275.
Brainiac has to be a top 5 Superman villain, right up there with the likes of Luthor (undisputed),  Zod, Darkseid, Doomsday.
Brainiac also has the good fortune to be an old villain, he's not a Golden Age villain but he's very early Silver Age and his early appearances and early covers matter and I say will matter more as time goes by and as Brainiac's stock rises through future projects. Early DC Silver Age, especially in grades of 8.0 or above are highly collectible, especially from the major titles like Action Comics.
I believe Action Comics is the 2nd Brainiac cover, and I believe it's the 2nd full Brainiac story.
The book is getting nothing on the market as of this post, recent sales include a CGC 7.0 that sold for $60 and a CGC 7.5 that sold for $66, both sales waaay below Guide.
The 47th Overstreet (brand new) price break for this book is $142/$234/$325 in the 8.0/9.0/9.2 grade splits.
Reasons to buy this comic book as an investment.
2nd Brainiac cover
2nd full Brainiac story
Book being ignored by the market right now
Early DC Silver Age is a highly collected era