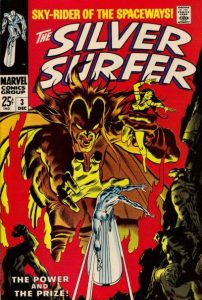 Silver Surfer #3, Marvel Comics, December 1968
I wanted to feature this book a while ago but when I realized the market was already onto it I held off. Upon some reflection I've decided Silver Surfer #3 still has very good upside and thus deserves to be this week's Undervalued Spotlight.
Forever the books to have in the Surfer run have been #1, #4 and to some degree (thanks to those pesky Spider-Man collectors) #14. Silver Surfer #3 though has really caught fire lately and it's partly thanks to that spectacular John Buscema cover. I know a couple of collectors that prefer this cover over #4, I still prefer #4 but #3 is a close second.
Silver Surfer #3 can offer something that #1, 4 and 14 can't offer and that is a prominent 1st appearance, the demon Mephisto.
As a young man I read Johann Wolfgang von Goethe's Faust (the English translation). It was tough slogging at the beginning, the poetic verses took getting used to but the payoff was huge, easily one of the best things I've read. I remember reading some Ann Rice vampire stuff years later and reveling in the fact that one of the characters walked around with a copy of Faust, thinking it held the answer to something important.
Stan Lee enjoyed some Goethe too, the Mephisto introduced in Silver Surfer #3 is based on the Mephistopheles character in Faust. Faust did fall to the tempter and sold his soul to the devil.
In Silver Surfer #3 Mephisto captures Shalla Bal, the Empress of Zenn-La and Surfer's one true love. Mephisto tries to tempt the Surfer into joining him by using Shalla as bait. Luckily for us the Surfer was more pure of heart that Faust and was able to resist the tempter.
Mephisto is a major Marvel character appearing through the decades and serving as a nemesis to other Marvel character including Thor.
Silver Surfer #3 Guides out at at the 9.2 grade at $475 versus $1150 for #4 and $1650 for #1. Silver Surfer #3 has been outperforming #1 and #4 on the market, CGC 9.4 copies get almost double Guide at about $850 while the #1 and #4 copies are realizing about Guide x 1.5. This is the market reacting and correcting the value of Silver Surfer #3 and I'm saying that this trend will still continue, I see this book moving past $1000 at that grade. I don't see why Surfer Surfer #3 shouldn't eventually approach the values of issues #1 and #4, like I said above the cover is stellar and there is a strong character introduction.
Stick to at least a CGC 9.2 or better, I prefer 9.4s for this book, make sure its square and tight and that the color pops!
The 47th Overstreet price break for this book is $138/$307/$475 in the 8.0/9.0/9.2 grade splits.
Reasons to buy this comic book as an investment.
1st appearance of Mephisto
Standout cover