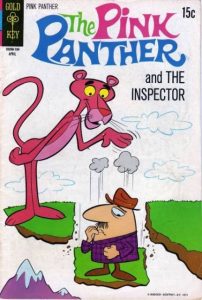 Pink Panther #1, Gold Key, April 1971.
I just noticed the last 11 Spotlights were either Marvel or DC! Time to fix that.
This week I thought I'd shine the Undervalued Spotlight on an old favorite of mine, Pink Panther #1.
Most of us know the Pink Panther through the Peter Sellers' Jacques Clouseau films, I don't care what anybody says, there is no funnier film than The Pink Panther Strikes Again!  The Pink Panther 1st appeared as an animated character in the credits of the 1st Pink Panther film in 1963. The audience loved the character and he soon took on a life of his own. The character was used in over 100 short cinematic films, had TV shows including being part of the famed NBC Saturday morning line up starting in 1969, he even had Prime Time specials, merchandise, toys and like all things popular he ended up in his own comic book.
For me Pink Panther belongs in the same conversation as Scooby Doo when it comes to the comic. Yes I know that Scoob and the gang have gone on to much bigger and better things but the Pink Panther is not a dead property by any means. The character is still revered world wide, I won't call it a cult following but there is a smart subtle-ness to the character that won't let him go away. I'm betting on him coming back in something smart and good.
The Pink Panther will always be associated with the Blake Edwards Panther films and those are practically all classics.
Pink Panther is the foil to the Inspector, a character based on one of the characters creators Friz Freleng.
Lets not forget the comic ran for 87 issues stopping in 1984 when Gold Key closed its doors. The Inspector even had a spin off series that lasted 17 issues.
The Pink Panther #1 comic is not exactly abundant but it does trade and it doesn't get much. A recent CGC 7.0 got $40 while a CGC 8.5 got $67 over a year ago. While the July 2017 CGC 7.0 sale is recent I'd say grab high grades where you can, I think the best place to find these will be on eBay, at cons in the bins of old time dealers and at comic shops specializing in older books.
The 47th Overstreet price break for this book is $34/$60/$85 in the 8.0/9.0/9.2 grade splits.
Reasons to buy this comic book as an investment.
Bronze Age #1 featuring two strong pop culture characters
Relatively cheap as of this post