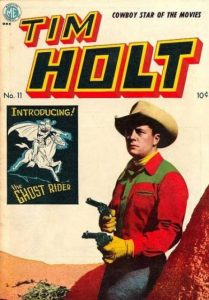 Tim Holt #11 & #17 Published by Magazine Enterprises.
It is double your pleasure today on the Undervalued Spotlight featuring the original Ghost Ride circa 1949-1955. Let's get to it.
The creation of the original Ghost Rider was rather unique. It was inspired by two other mediums. A song – Ghost Riders in the Sky, written by Stan Jones and made popular by singer Vaughn Monroe, and a movie – Disney's the Legend of Sleepy Hollow (Headless Horseman). Magazine enterprises Vince Sullivan, writer Ray Krank, and artist Dick Ayers have all been listed as co-creators of this new Ghost Rider. They turned an existing comic character The Calico Kid/ alias Rex Fury in to The Ghost Rider. His transformation in to the Ghost Rider took place in our UV spotlight Tim Holt #11 in November 1949. The Ghost Rider proved to be very popular and remained in Tim Holt comics as a split comic, and also spun off into his own series the Ghost Rider which ran from 1950-1954 and lasted fourteen issues. Magazine enterprises ceased publishing in 1958. Marvel comics picked up the Ghost Rider when the trademark for the character expired and a new Ghost Rider – Carter Slade was born with Dick Ayers, the original Ghost Rider artist at the helm. The Ghost Rider later turned in his horse for a motorcycle with Johnny Blaze and the legend continued.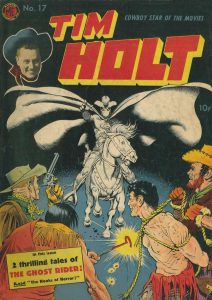 The early Ghost Rider fought plenty of traditional western foes like bank and train robbers and cattle rustlers. He was however a much more supernatural character and also fought Frankenstein, werewolves, vampires, and the devil. Loco weed and other hallucinatory drugs stories too. These pre-code western horror books were a very different offering from the conventional western genre comics.
Frank Frazetta contributed six covers to the Ghost Rider. Our UV spotlight Tim Holt #17 & #21, plus four issues in the new Ghost Rider series issues #2-5. They are all very popular and much sought after by Frazetta fans. This work took place about four years prior to his Famous Funnies run on Buck Rogers.
Tim Holt was a son of an actor who became an actor himself. His stock and trade was a B western movie star, usually playing the straight-arrow, stand -up cowboys you could really count on when you needed to take down rustlers and crooks. He did have a much more varied career than that though, landing parts in some of the most iconic movies of the late 30's and 40's. John Wayne's coming out party -Stagecoach in 1939, Orson Welles follow up to Citizen Kane – the Magnificent Ambersons 1942, My Darling Clementine – the first big Gunfight at the OK corral 1946, and the classic Treasure of the Sierra Madre in 1948. Tim Holt died in the early 70's. His movies and comics live on for us to enjoy.
Before we get to why I think these books are undervalued let's take a look at some 47th Overstreet Price guide values.
| | | | | |
| --- | --- | --- | --- | --- |
| | 6.0 | 8.0 | 9.0 | 9.2 |
| Tim Holt #11 1949 | $174 | $371 | $636 | $900 |
| Tim Holt #17 Frazetta cover | $135 | $284 | $480 | $675 |
| Ghost Rider #1 1950 | $348 | $742 | $1271 | $1800 |
| Ghost Rider #2-5 Frazetta covers | $270 | $576 | $966 | $1400 |
These prices seem a bit out of sorts to me.
Tim Holt #11 – This book contains the Ghost Riders 1st appearance and origin story. The book is half the value of Ghost Rider #1. I know that Marvel's Ghost Rider does not have direct lineage back to this Ghost Rider in terms of story, but the character that was created certainly does. This book has a pretty low value for a character who has been published for over seven decades right up to today.
Tim Holt #17 – This book has the first/second Frazetta cover of the Ghost Rider. I say this because Ghost Rider #2 came out in late 1950 but I don't know the month. I think the Tim Holt cover came first but couldn't confirm. The value of the Tim Holt Frazetta cover is slightly less than half or the Ghost Rider #2-5 work. This makes no sense to me. All of this early Frank Frazetta cover work is first rate.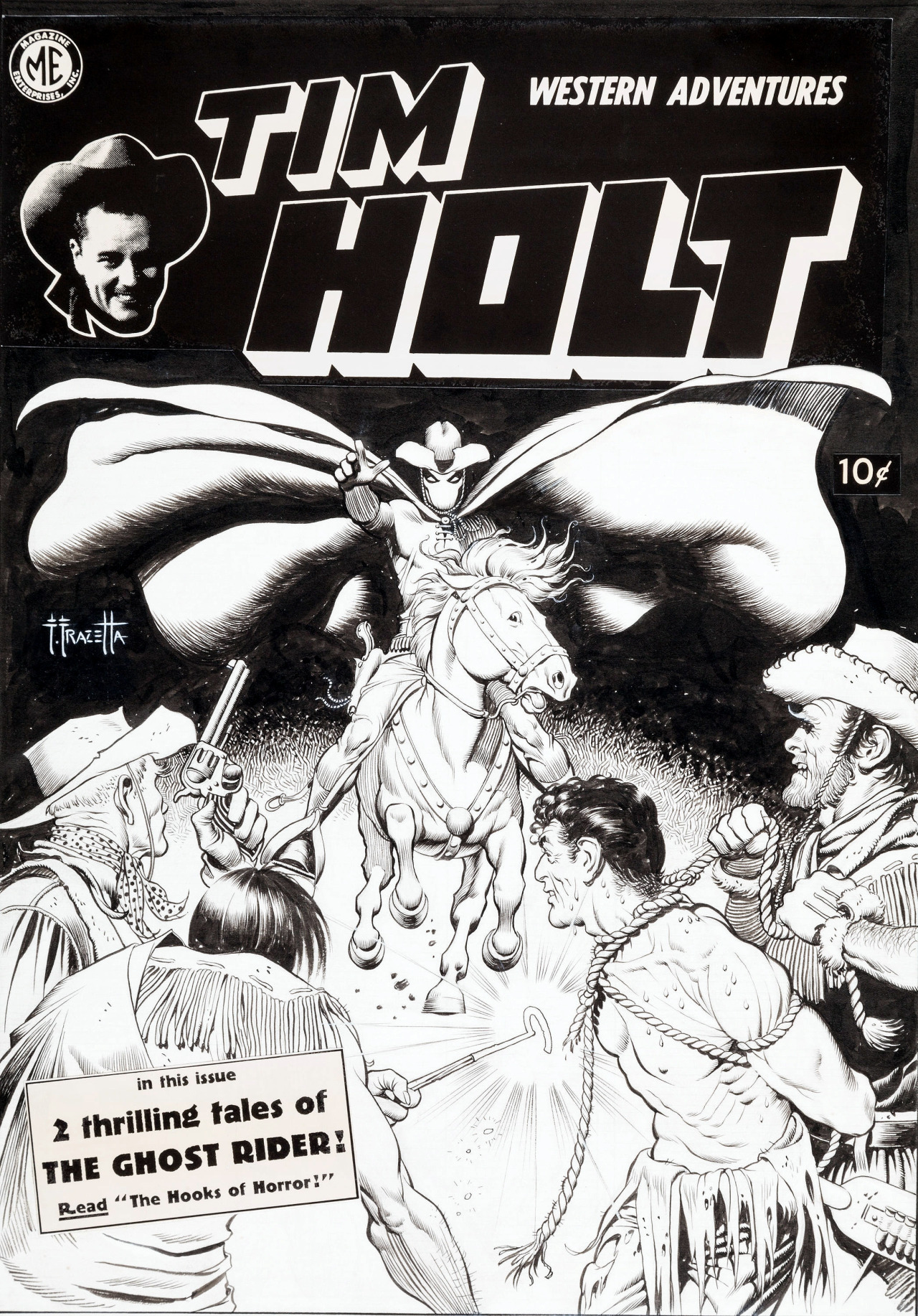 The value of these Tim Holt books may be lost on Overstreet, but they are not lost on the marketplace. There are pre-code horror fans, Ghost Rider fans, Tim Holt fans, and Frazetta fans, all tracking down these books. I have been chasing copies of these books, and all old Ghost Rider books for some time now with limited success. The only books that don't make guide are very low grade and the odd Canadian issue. The rest always sell well over guide, but are still a bargain in my opinion. I have a couple of my own and are a real treat to read. Highly recommended.
Reasons to buy these books as an investment.
Tim Holt #11
First appearance of the Ghost Rider
Dirt cheap in Overstreet price guide, and strong collector appeal
Tough book to find in any grade
Tim Holt #17
Early Frank Frazetta comic work
Dirt cheap in Overstreet price guide, and strong collector appeal
Tough black cover, difficult to find in grade