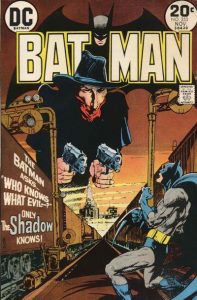 Batman #253, DC Comics, November 1973
Batman comics from the early Bronze Age are some of the most collected comics in the hobby. Our friend Neal Adams had a lot to do with this thanks to his stellar work; Beatles cover (#222), Golden Age classic cover swipes (#227), major character introductions (#232), major character re-introductions (#234) and some iconic covers (#251) all make Batman issues from this era in demand comics.
Batman from this era has more to offer than just Adams though, the 100 pagers that started at #254 all enjoy strong demand. There are some sleepers in this mix too and one of them, Batman #253, is this week's Undervalued Spotlight.
Batman #253 offers up a striking Michael Kaluta cover featuring the Shadow.
The issue has the Shadow mysteriously and anonymously helping out Batman, once the criminals have been caught the Shadow reveals himself. Batman lets the Shadow know that he inspired Batman's career and asks him to come out of retirement to continue to fight the good fight. The Shadow disappears, hinting that he'll be back.
DC Comics in the early 1970s was all about noirish, macabre storytelling so they thought it a good idea to adapt the Shadow into the DCU. Mike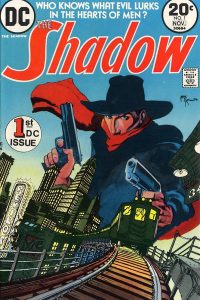 Kaluta and Denny O'Neil launched the Shadow in his own title the same month as our Spotlight issue. What a better way to introduce new fans to a Batman inspiring character than to feature him in the pages of Batman.
Batman #253 is the 1st meeting of the 2 characters I believe and the whole thing should be a bigger deal. This should be a way bigger book than it is. This is the DC adaptation of the Shadow, the same Shadow that is cited as the main inspiration for Batman.
The Shadow dates back to the very early 1930s, he started off as a voice on the radio narrating other crime stories. The public loved the creation and wanted to hear Shadow stories and the character was rewritten as the lead. He was the king of radio and also became the king of the Pulps. I found countless articles online citing the character as a big influence in the creation of Batman.
Batman #253 is ho hum on the markets, a CGC 9.2 got $96 recently while a CGC 9.4 sold for $135 on ComicLink last week and the last CGC 9.6 sold for $175.
This book has been lost in the Adams era, published just before the 100 pager run and generally just ignored. I say the event is too momentous and the cover is too strong for this book to stay this quiet.
The 47th Overstreet price break for this book is $34/$60/$85 in the 8.0/9.0/9.2 grade splits.
Reasons to buy this comic book as an investment:
Fantastic Michael Kaluta cover
1st meeting of Batman and the Shadow