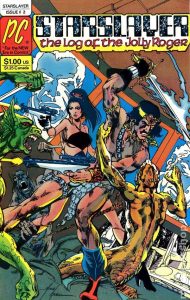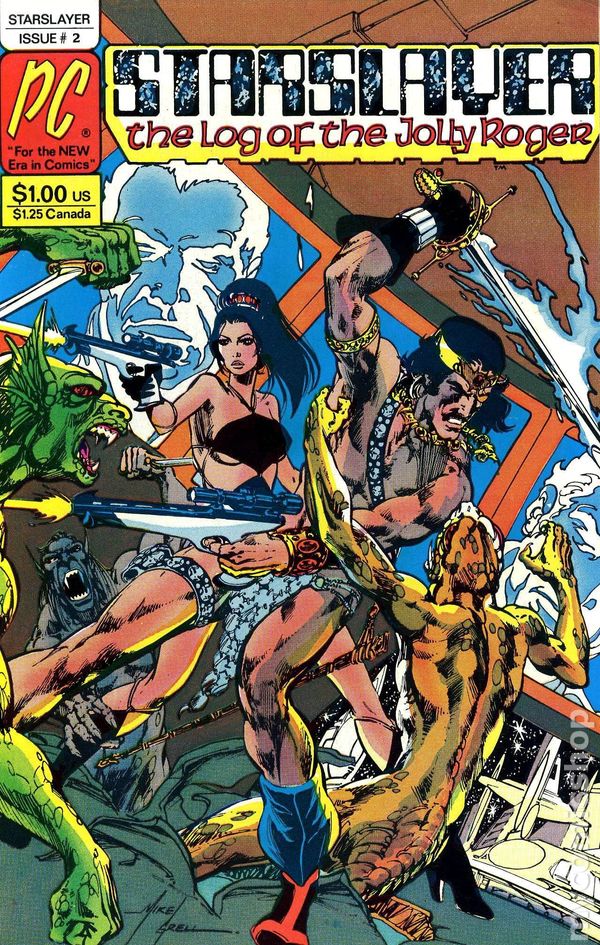 Starslayer #2, Pacific Comics, April 1982.
It's always nice getting a guest Spotlight sent to me and it's twice as nice when it comes from someone like long time Spotlight fan and contributor Carey. I like Carey's picks, the guy has a good eye and argues his position well. Let's hand things over to Carey.
I was browsing the new comic rack at the local comic store a little while ago and noticed a new Bettie Page comic on the stands. The cover caught my eye as it looked familiar. Shortly afterwards I realized where that sense of déjà vu came from as I found out the cover was essentially taken from a page from a Rocketeer story in Pacific Presents #2.
Coincidentally, a couple of months earlier I was rummaging through a store's dollar bins and found a copy of Starslayer #2 and this week's Undervalued Spotlight. Starslayer #2 is the comic that introduces Cliff Secord AKA the Rocketeer. The Rocketeer was created by Dave Stevens in 1982 as a homage to golden age pulp heroes and his adventures are set in the late 1930s and 1940s. Cliff Secord is an air show pilot struggling to make ends meet when he accidentally finds a secret piece of government equipment a couple of gangsters hide in his plane. The piece of equipment is a prototype jetpack and once he dons the jetpack to rescue his friend, the Rocketeer is born.
While the Rocketeer didn't have much in the way of super powers, he did have two things going for him: a smoking girlfriend named Betty and Dave Stevens' art. Betty was modeled after real life 1950s pin up queen Bettie Page, who was essentially a black haired Marilyn Monroe, and no one drew Betty or Bettie better than Dave Stevens. I recently read an article about the highest grossing dead celebrities and Bettie Page was #13, right behind Elizabeth Taylor and David Bowie. I like to think Dave Stevens contributed to Bettie Page's revival with his artwork in the Rocketeer issues as well as Bettie Page's self titled comics. Adam Hughes is one of the hottest artists today with his striking covers of Catwoman and Wonder Woman, but quite frankly, Dave Stevens was Adam Hughes before there was Adam Hughes.
While the Rocketeer didn't have many issues published in the 1980s, the concept and popularity was high enough that Disney produced a Rocketeer movie in 1991 starring Billy Campbell and Jennifer Connelly. The movie has gone on to gain a bit of a cult following and word is that Disney is planning on doing a remake/sequel. For a comic that can often be had for below guide, Starslayer #2 is this week's undervalued spotlight pick.
The 47th Overstreet price break for this book is $16/$23/$30 in the 8.0/9.0/9.2 grade splits.
Reasons to buy this comic book as an investment:
First full appearance of the Rocketeer
Art by the late great Dave Stevens
Disney is currently planning on doing a remake/sequel