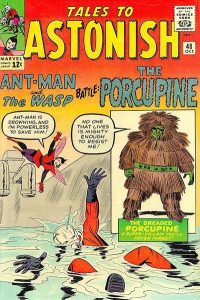 Tales to Astonish #48, Marvel Comics, October 1963.
I seem to be on a bit of a Tales to Astonish kick having visited #59 in a recent Spotlight. Can you blame me? The title is rife with great issues worthy of some extra attention.
Tales to Astonish #48 has always been one of my favorite covers of the run, probably for its sheer audacity and lameness and this week it's my Undervalued Spotlight pick.
There is such a thing as being so bad that it's good and that's the way I've always looked at the cover to TTA #48. I mean that Porcupine costume is one of the most hideous things I've seen in villain costumes yet this book is one that makes my office/man den wall. They couldn't even figure out a way to work him into the art of the cover, Ant Man is in trouble and through a little window showing Porcupine in full frontal we are informed it is the doings of said Porcupine.
The Porcupine concept is a great one in my mind. Alec Gentry is a scientist who devises the coolest military outfit ever, it's able to shoot quills, dispense gases, bullets, chemicals of all kinds and flames from the outfits quill like tubes. Ever the capitalist Gentry figures he can get more out of the costume using it for crime than he can selling it to the military. Porcupine, nemesis of Ant Man is born!
Let's not forget that the Porcupine debuted in October 1963 making him a very early Marvel costumed villain. And again I'll defend the concept. I blame his lack of success on Marvel's not figuring out how to draw him – great concept – terrible visuals. Marvel has fixed costumes before, perhaps most famously on Iron Man, they didn't on Porcupine.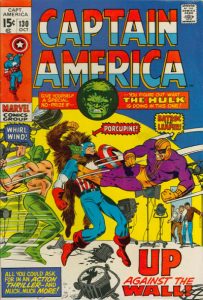 We lose sight of Porcupine for a while, the next I notice him is years later as part of Bartoc's Brigade in Captain America #130 (Oct/70). Notice how they hide him on the cover, seven years later and they were still afraid to draw him.
In 2006 in Daughters of the Dragon # #3 Marvel resurrected the character with Roger Gocking as the new alter ego.
During Civil War Porcupine, Eel are caught in San Francisco and the two later go on to form Thunderbolts Team A.
There was another Porcupine, Billy Bates, through him Marvel tried to give the character Mutant abilities and shed the war suit approach.
I of course remain a fan of the old Porcupine and his too cool for school costume. Porcupine is an early Marvel villain and his concept is actually pretty cool. This book has some upside in my eyes.
Tales to Astonish #48 is flat on the markets, a CGC 9.2 did get $800 back in April while a CGC 7.0 got a dismal $118 that same month. For me a CGC 9.2 or better is the way to go, I checked the sites and the best I saw was a CGC 8.5 available as of this posting.
The 47th Overstreet price break for this book is $216/$483/$750 in the 8.0/9.0/9.2 grade splits.
Reasons to buy this comic book as an investment:
1st Appearance of the Porcupine
Very early costumed Marvel villain