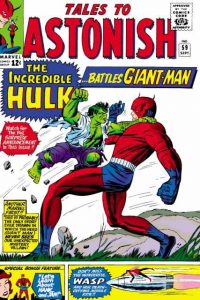 Tales to Astonish #59, Marvel Comics, September 1964.
I was reading up on some Hulk history recently and was surprised at just how sparsely the big guy was used in the early days of Marvel. Hulk is one of the anchors of the today's Marvel U so it's easy to assume he was a go to guy right from the start.
Surprisingly he only appeared maybe 17 times in his first two and a half years of existence. His initial run only lasted the 6 issues, he only lasted 2 issues as an Avenger, and the rest of his early appearances were guest spots in titles like Fantastic Four, Avengers and Spider-Man.
Hulk's appearance in Amazing Spider-Man #14 (July/64) was his last appearance before he resurfaced in this week's Undervalued Spotlight – Tales to Astonish #59 (September/64).
Tales to Astonish #59 features a fantastic Jack Kirby battle cover pitting Hulk vs. Giant Man. This is a great cover! From this period most people would site Kirby's Journey into Mystery #112 (January/65) as the standout Hulk battle cover but I think Tales #59 is even more dynamic. I should mention Tales to Astonish #59's Guide value is less than 60% of JIM #112's.
In Tales to Astonish #59 Hulk battles Giant Man and with with appearances by Wasp, Captain America, Thor, Iron Man and even Spidey this book is hard to resist. The story is actually a set-up to reintroduce the Hulk who becomes a regular co-feature beginning in the next issue. Tales to Astonish #60 to #69 is a split book between Hulk and Giant Man, Hulk splits duties with Sub-Mariner through issues #70 to #101 after which Hulk famously gets his own title with Incredible Hulk #102.
I checked a couple of sites and I'm pretty sure that Tales to Astonish #59 is Hulk's 16th appearance (at least cover appearance). Of all the Hulk issues before it TTA #59 is by far the cheapest in Guide value, Avengers #5 at $1400 is next and then things start getting expensive.
The book is flat in today's marketplace, I spotted a CGC 9.2 sale at $1,070, an 8.0 sale at $263 and just this month a CGC 9.0 sold for below Guide at $550.
Tales to Astonish #59 was published in 1964, it is an early Marvel and for me it's a Hulk key issue. As far as I'm concerned it is undervalued at the moment. A CGC 9.2 would get you into investment grade but they get real sparse at 9.4, at 9.4 you'd be in the top 6.4% of all copies.
The 47th Overstreet price break for this book is $259/$580/$900 in the 8.0/9.0/9.2 grade splits.
Reasons to buy this comic book as an investment:
Issue used to reintroduce Hulk and set up Hulk's co-headlining of the title.
Classic Jack Kirby cover
Early Hulk appearance