Now I am venturing way out of the Silver Age on this post! I reread the first 28 issues of 2003's Gotham Central over the last week, and what a great read it was. The series is written by Brubaker and Rucka, sometimes jointly, sometimes either/either.
The series was illustrated by Michael Lark. With the first dozen issues both penciled and inked by Lark with the exception of one fill in. This was actually my first introduction to Michael Lark and he really made an impression on me. The man can tell a story!
A lot of the story takes place in the GCPD, with a lot of talking heads, and he makes it interesting. Not easy to do!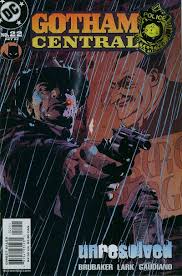 Now Gotham Central follows the trials and tribulations of a number of detectives and their partners in the day to day challenge of working in the crazy city that is Gotham and the love/hate relationship they have with "the Bat!"
Batman shows up rarely, but he is as much a presence as the other detectives in the book. I would think that in the whole 40 issue run, there are only maybe twenty panels where he does show up.
This makes for an interesting dynamic between the storytellers and the readers, and you feel his presence even when he is not there.
After the first dozen issues, we are treated to Stefano Gaudiano taking over the inking chores and are treated to a great artistic combo, as they really mesh together. For me they go together like Colan/Palmer and Kirby Sinnott. High praise indeed! I can never get enough of them. That reminds me that it is about time to reread their run on Daredevil. What a run that was!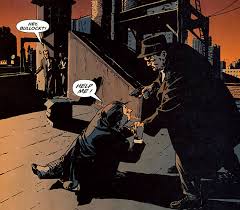 So if you are like me, and would rather reread a great story than plod through something unknown and be disappointed, let me recommend this series.
A truly adult comic, very wordy, with truly adult subject matter and not many long underwear and cape types.
Michael Lark has been currently working on Lazarus of which he has taken a pause from, to come back to it refreshed and raring to go.
He is one artist I will follow on whatever he works on, and have picked up most of his back catalogue which includes the fabulous Batman Nine Lives which you can read about here.
I am glad I dove into this again!!! Check it out! I doubt if you will be sorry you did.
Continued Happy Collecting!
---