It has been a while since I last ruminated to you about Tales from the Comicdenn. The last three months have been difficult for us all, but, at least we had comic books to get us through COVID-19!
I have been fortunate to be able to continue working out of my house, cooped up inside the Comicdenn, with many a long box and many Artist's Editions to keep me company.
I finished off the sequel to Splashdown, my Graphic novel that I released a year ago, and will be launching the sequel to it in a couple of weeks.
I often thought of how stir crazy people must have gotten without the escape of comic books. Even with them, it has been certifiably crazy.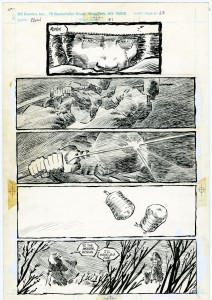 The Artist's Editions are truly a work of art and the forced lockdown of the past three months gave me an opportunity to go through them again. I even picked up a new one, Frank Miller's Ronin. Boy did he put a lot of work into that story. Not one of my favourite storylines but the effort he went through to fashion the story is impressive. The Gallery Edition is truly massive and makes looking at the artwork that much more impressive. For those not familiar with it, it was the first main new work by Frank Miller after his run on Daredevil and it has a decidedly European flavour to it. I certainly enjoyed it much more than when it first came out. (Here's our review).
So now that it looks like we are opening up the economy again, and the local comic shops are once again open as of this writing, and I think it goes without saying, the importance for all of us to go and help keep our local comic shop open. So, go spend some money on both the new and back issues of your favourite comics, they need our help, and I am afraid that we may lose some of them after this long, forced closure. So if you are able to, go spend some money at your local comic shop and I hope your collections got a good dusting off during this forced shutdown.
Continued Happy Collecting!