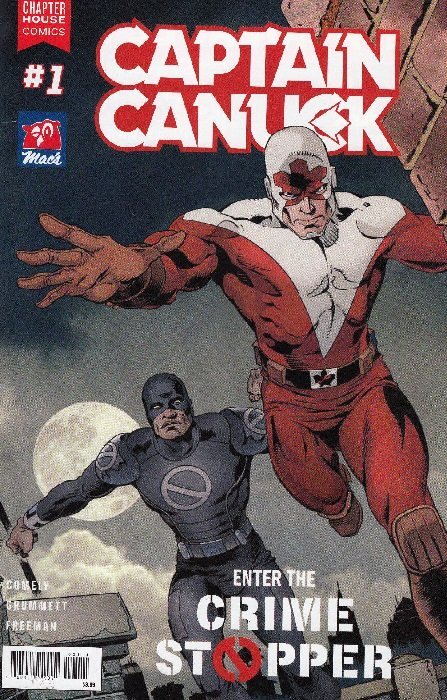 I had a nice visit from my good friend and Captain Canuck creator Richard Comely last week, it was great to see him and he's doing just fine. We were rummaging through some old Captain Canuck stuff and I happened upon a small pile of the Captain Canuck Crime Stoppers giveaway comic.
A few years ago the Hamilton Police asked me to help out with their Crime Stoppers "Be a Hero" Initiative. It was a fun project and I floated the idea to them to partner their newly designed Crime Stopper hero with Canada's favourite hero Captain Canuck. They really liked the idea, next I asked Richard if he'd like to be involved and he really liked the idea too and he jumped on board. At the end of the day, I think about 150,000 copies of the comic were printed and given away at Mac's Milk stores across Canada.
Finding that pile of Canuck comics I wondered if they were worth anything today, I checked on eBay and found no recent sales though there is one lonely listing for a copy at $11.95. My thoughts then went to promotional comics in general, are promotional comics collected as a collecting strain?
I remember when I was starting out in the 1980s, I was a big Spidey fan and one of the comics I really wanted badly was that Esquire Magazine issue from Feb/69 that had a mini Spider-Man comic inserted inside the magazine. I never ended up getting a copy and as the years passed I somehow totally forgot about that issue, really until just now.

Have you had a look in the Promotional Comics section of the Overstreet Price Guide? It's huge and it's full of amazing stuff.
Funnies on Parade, Carnival of Comics and Century of Comics are recognized as the first comic books ever of what is now seen as the traditional America Comic Book. Pictured to the right are the copies out of my PC, I don't have a Funnies on Parade but I do have the variant Toy World Funnies.
Speaking of Spider-Man there are those Aim Toothpaste giveaways in there, the All Detergent one as well. Wolverine #145 from 1999 was a Nabisco mail-in and seems to have some guide value.
The largest and most famous run has to be the March of Comics runs, 488 issues running from 1946 to 1982, there are a few Carl Barks Donald Ducks in that run that have Guide values in the thousands of dollars. I think the most expensive Promotional comic out there has to be Motion Pictures Funnies Weekly from April 1939 featuring the first appearance of the Sub-Mariner, only 9 known copies exist.
Promotional Comics definitely skew to the Golden Age but there are plenty from all the eras. My question is what are these things not more actively collected. I honestly have not heard a peep in regards to promotional comics in over a decade, maybe two. I had those Spidey giveaways in my Spidey bin for years and nothing, even the one with the Dallas Cowboy Cheerleaders just sat in the bin.
How does one even go about collecting Promotional Comics? By hero? By era? By big key issues? There should be some kind of list noting all the "must-have" promotional comics from all eras. I'm off to a good start with my pile of Captain Canuck Mac's Milk Crime-Stoppers comic.
Anyone know of any hidden gems?