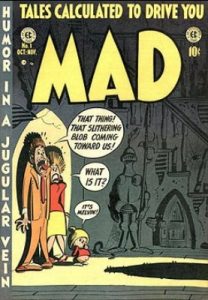 Mad #1, EC Comics, Oct/Nov 1952.
Last week I was offered a mid-grade copy of Mad #1 and I turned it down. In my judgement the book was flat, I thought I'd have trouble selling it, I couldn't remember the last time someone asked me to hunt one of those down.
The book has been stuck in my brain ever since, it's like my Spider Sense is telling me I messed up by passing on it. Obviously some therapy is needed, obviously Mad #1 is this week's Undervalued Spotlight.
Mad #1 was published in 1952 by E.C. Comics. Publisher William Gaines could do no wrong in the early 1950s, his E.C. lineup was the class of the field boasting some of the best creative talent in the business. Comics.org quotes the F.B.I. pegging the print run for #1 at 400,000. Today the print run remains healthy, somewhere over 250,000 is what I read. Mad's heyday was the 1970s when the print run was over 2 million copies per issue.
Mad is a satire magazine that parodies, questiones, pokes fun and exposes the absurdity of most things sacred in American popular culture. It's hard to overstate Mad's importance and influence. The quote's from famous writers, comedians, reporters, film critics etc. are all over the web, they all site Mad's massive influence, just jump on Wiki for some testimonials. I liked the quote from Comics historian Tom Spurgeon who argues that at the height of Mad's influence it was The Simpsons, The Daily Show and The Onion combined. Some write that Mad set up the kids that would later launch the sexual revolution, the anti Vietnam movement etc. Those are pretty strong associations but the point to take from all these testimonials is that Mad was a very, very influential publication whose effects we're are all enjoying today in many forms of media.
The creator talent allocated to Mad #1 is beyond impressive, Harvey Kurtzman, Jack Davis, Wally Wood, Will Elder, John and Marie Severin all had a hand in the creation of what was to become a cultural institution.
A key moment in the publication's history happened with issue #24 when Mad shed the comic book format and switched to become a monthly magazine. Great timing, becoming a magazine removed Mad from the need to adhere to the newly imposed Comics Code Authority. The Code killed all the other E.C. titles but Mad went on to thrive as a magazine.
There has been a little movement in the book on the markets as of late. Recent sales of CGC 3.0 and CGC 4.0 copies got below Guide while a higher grade copy at CGC 7.0 copies got just over Guide. There was a CGC 6.0 that performed well above Guide but it looks like a one off next to the other more recent results.
So the question is how much value should we give Mad #1? There are not that many comic books that can match its cultural impact, maybe none can?
I think the book deserves more reverence, I think it's a good time to nail down a copy.
The 47th Overstreet price break for this book is $1287/$3432/$5466/$7500 in the 6.0/8.0/9.0/9.2 grade splits.
Reasons to buy this comic book as an investment:
Launch of a culturally influential publication
Contributors include Wally Wood, Jack Davis, Will Elder, Harvey Kurtzman, John Severin and Marie Severin