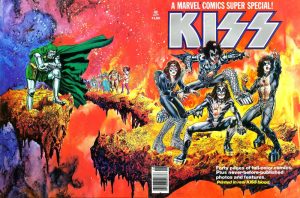 Marvel Comics Super Special #1, Marvel Comics, September 1977.
Happy New Year, this year may all my Spotlight picks be loved by everyone!
I was talking rock and roll with my pal Jay recently and he being a huge Kiss fan mentioned their new "Vault" box set that sells for a tidy $2,000. The set has 94 songs including 30 previously unreleased tracks. I'm not a huge Kiss fan but they did have a few good riffs and I always admired their theatrics and I did know lots of guys that were in the Kiss Army.
To say that Kiss was a cultural phenomenon would be an understatement, the band is still big, Jay tells me there are legion of young fans. Gene Simmons and the other guys may age but the Kiss concept never seems to.
A millisecond after Jay and I switched over to the Kiss comic appearances I knew I had my Undervalued Spotlight. What I didn't realize was how tough it would be to pick one out of the 3 principle early Kiss appearances in comics.
There was Howard the Duck #12 featuring the 1st partial appearance of the band, then there was Howard the Duck #13 featuring the 1st full appearance of the band. Both these books are obvious undervalued picks and worthy pickups but I want to limit the headline to one book so I'm going with Marvel Comics Super Special #1.
For me Marvel Comics Super Special #1 is the one to have, the one that I think people will choose to have over the 2 earlier comic appearances.  It's a magazine format issue that features Kiss adapted into superheroes, Gene Simmons [The Demon]; Paul Stanley [Starchild]; Ace Frehley [Space Ace]; Peter Criss [Catman]. It's also the issue that famously has the blood of all the band members mixed into the ink that was used to print this issue.
The book features a fantastic wraparound cover by Alan Weiss with Doctor Doom on the back wrap and the epic 40 page story features fan favorites including Spider-Man, the Avengers, the Defenders, the Fantastic Four and more. Art contributions also from Rich Buckler and Sal and John Buscema.
I think this book will grow in stature over the coming years, I think it's a great piece of pop culture that lots of people will want to own. The timelessness of the band, the hook of the blood, it's one of the pop culture markers of a decade full of pop culture markers.
The markets are soft on this book, you can pick up a CGC 9.2 for less than two thirds of the 9.2 Guide value, CGC 9.6s go for less that $400 and there is some relative scarcity in the higher grades.
The 47th Overstreet price break for this book is $82/$179/$275 in the 6.0/8.0/9.0/9.2 grade splits.
Reasons to buy this comic book as an investment:
Kiss members own blood added to ink vats for printing of this magazine
A pop culture marker of the 1970s