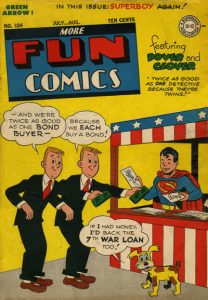 More Fun Comics #104, DC Comics, July/August 1945.
I've started to focus my comic buying more towards covers. We've discussed the power of covers often on this site and I think cover appeal has a bright future in comic collecting.
CBD contributor and good pal Mike Huddleston was over the other day, we talked about all that is good in life, girls, hockey and comics. Mike brought up the topic of why early Superboy issues were worth more than early More Fun issues with Superboy in them. Great topic. I thought it perhaps had something to do with Supeboy not being on the cover of his early More Fun run.
I knew we were on to something, we just had to flush it out.
What are the most prominent 1st appearance issues that don't feature the character in question on the cover? I'm too lazy to research but obviously our More Fun #101 with Superboy and most famously Archie's 1st appearance in Pep Comics #22. Archie did't get the full cover treatments until Pep Comics #36 (if we don't count the little circle picture on the cover of Jackpot #4). Doc Strange is another one, he 1st appeared in Strange Tales #110 but never really got top billing cover treatment until #130 though he had countless little insets up until then (Strange Tales #118 being the 1st inset issue). Can you list a few more?
So all the talk above did lead me to a book, I'd like to feature More Fun #104 as this Week's Undervalued Spotlight.
More Fun Comics #104 is I believe the 4th appearance of Superboy and its the 1st Superboy cover and… its currently undervalued.
Comparably, did you know Superboy #4 (9/10-1949), published over 4 years later has a guide value of $2,200. Did you know all the Superboy issues up to #10 have higher Guide values than More Fun #104? Did you also know Superboy #11 to #15 all have $1400 Guide values or just $100 less than More Fun #104?
I'm not sure why all this is the way it is. More Fun #104 offers up a very early appearance, it's embedded in one of the iconic titles of the Golden Age and it offers up the 1st cover appearance of a major DC character.
The book is tough to track down but copies do sell and when they come to market they end up selling on the cheap, a CGC 4.5 sold a couple of years ago at Guide while a CGC 7.0 recently sold for about 25% over Guide.
The tough part here will be finding one but if you do and its anywhere close to Guide then grab it, I think it's a gem.
The 47th Overstreet price break for this book is $291/$621/$1061/$1500 in the 6.0/8.0/9.0/9.2 grade splits.
Reasons to buy this comic book as an investment:
1st Superboy cover
Embedded in one of the most iconic of Golden Age titles
War Bonds issue