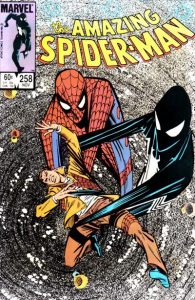 Amazing Spider-Man #258, Marvel Comics, November 1984.
This past weekend I set up at the Toronto Comics Con and I'm happy to report that it was a very busy show with lots and lots of people looking for and buying comics, there was good comic book energy in the room and it was nice to see.
I did give myself a mission before I went into the con, I had to come back with at least 3 good Undervalued Spotlight candidates. I'd go in open minded, I'd look for patterns, I'd listen to chatter.
Mission accomplished and my 1st con inspired book I'd like to go with a bite sized one that's both fun and easy to attain.
At my booth the hottest book was easily Amazing Spider-Man #300, we sold 4 copies this weekend including a CGC 9.8 copy and 2 of the 4 copies went to other dealers (I should consider raising my prices).
Spidey #300 will continue to be a hot book during the whole run up to the Venom movie release in October 2018. The great thing about the whole Spider-Man, Venom, black costume, symbiote thing is that there are a lot of important issues associated with this sweeping tale. There are the 1st black costume issues Amazing Spider-Man #252, Spectacular Spider-Man #90 and Marvel Team-Up #141. There is also Marvel Super-Hero Secret Wars #8 which tells how the costume came to be.
I'm sure most people know about the young fan Randy Schueller winning a new ideas contest Marvel was having back in 1982. Marvel editor Jim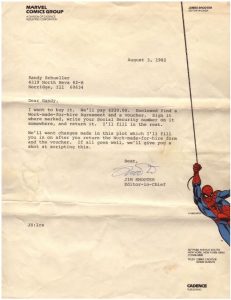 Shooter liked Randy's black costume as a living being idea so much he bought the idea off the young man for $220. Because the idea was latched onto in 1982 there are actually quite a few pre-ASM #252 appearances of the black costume, check out this cool site for more info.
All the above mentioned books are enjoying robust demand these days and their prices have been steadily climbing. One of our ASM #300 purchasers this past weekend actually had Secret Wars #8, ASM #299 and ASM #258 in his pile. For some reason I questioned the ASM #258 and he explained to me that he thought that it was an important piece of the Venom puzzle.
Intrigued I read up a little on the whole subject after which I was convinced that this week's Undervalued Spotlight should shine on Amazing Spider-Man #258.
Amazing Spider-Man #258 is the issue where Peter Parker rids himself of the symbiote black costume with the help of one of Mr. Fantastic's cool baster guns. This actually happens in the November 1984 issue, one month before the release of Secret Wars #8. Initial fan reaction was negative to the new black costume and Marvel had to write back in the old one. Funny story is that a lot of fans ended up taking to the black costume so they wrote in Black Widow sewing Parker a cloth one that would sporadically appear on Amazing Spider-Man covers over the next few years.
Amazing Spider-Man #258 also boasts a fantastic Ron Frenz cover that beautifully and wordlessly explaining everything. This issue is also part of the story-line in which we learn that Mary Jane Watson knows Peter Parker is in fact Spider-Man (revealed in #257).
Amazing Spider-Man #258 represents a cheap $5 entry into the epic black costume/Venom collecting craze. This comic is not on an investing level with ASM #252 or Secret Wars #8 but is does belong in all collections centering around this epic chapter in Spidey's storied career and it represents an affordable way to participate in the festivities. Of course I think it is currently being ignores and thus is undervalued.
The 47th Overstreet price break for this book is $6/$8/$10 in the 8.0/9.0/9.2 grade splits.
Reasons to buy this comic book as an investment:
Fantastic Ron Frenz cover
Peter Parker rids himself of the symbiote black costume
Important issue embedded in the most collected title there is, Amazing Spider-Man