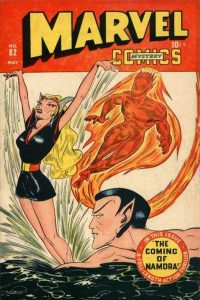 Marvel Mystery Comics #82, Timely Comics, May 1947.
If you're an old timer like me you'll remember back when the Marvel Mystery Comics run was a mighty, mighty run. Marvel Mystery Comics was said in the same breath as Action Comics and Detective Comics but that was long ago and two big DC titles are now leagues ahead.
Collectors have been coming back to Marvel Mystery Comics lately but slowly and in my mind the title is still ripe for the picking, I'm thinking one of the first picks should be this week's Undervalued Spotlight, Marvel Mystery Comics #82.
Much to my surprise I have never picked a Marvel Mystery as one of my Spotlight picks.
Marvel Mystery Comics #82 features the 1st appearance of Sub-Mariner's cousin Namora. Namora  the daughter of an Atlantean father and Human mother, she even got her own Timely Comics title in 1948 though it only lasted 3 issues.
Sub-Mariner #33 (January 1971) re-introduced Namora to the Bronze Age and she's a founding member of the Agents of Atlas in current Marvel continuity.
Namora is a great female character introduction coming out of the years when superhero comics were dying a slow death. What's important is that she is a Timely thus Marvel character and she has a close affiliation to Subby. With Sub-Mariner being such a highly speculated character these days I think snagging this Golden Age gem will give you something nice and heavy to put beside that Fantastic Four #4.
I will admit that this is a tough book to track down as there has not been a recorded sale on the GPA over the past two and a half years, a CGC 9.0 sold for about Guide back in September of 2015. Before that sales were much more common with 7 sales being recorded in the 3 years prior. But I've picked scarcer books before so no complaining! And these books have a knack for popping out when you least expect them so be vigilant.
I realize that the next sale at any grade will be high but my argument is that it may not be high enough, I think anything close to double Guide would be a steal, and triple Guide might be where we are at.
The 47th Overstreet price break for this book is $628/$942/$2198 in the 4.0/6.0/8.0 grade splits.
Reasons to buy this comic book as an investment:
First Appearance of Namora
Great cover featuring Namora, Sub-Mariner and Human Torch
Captain America appearance
Embedded in the iconic Marvel Mystery run