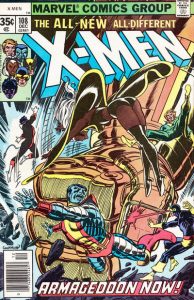 X-Men #108, Marvel Comics, December 1977.
Earlier today I read Dennis DePues' post on the great John Byrne coming to this year's Fan Expo in Toronto. It got me thinking of a few Byrne I have on my potential future Spotlight list so I took the cue (my wife made me read Celestine Prophecy years ago) and tried to narrow down my picks to one. High on my list were Giant Size Dracula #5 (Byrne's 1st Marvel work) and Marvel Team-Up #53 (Byrne's 1st X-Men work) but after a few sips of club soda I decided this week's Undervalued Spotlight should be X-Men #108.
It doesn't hurt that X-Men #108 is embedded in one of the most collected runs in the hobby, X-Men #94 to #143.
X-Men #108 is the start of the John Byrne run on X-Men and historically speaking it's a big book. I can't add anything new to all that has been written about the importance of the John Byrne,  Chris Claremont and Terry Austin run on X-Men, all I can do is agree that this creative team may very well have saved the medium.
With so much focus on 1st appearances and covers in the current back issue market I'm betting that soon enough a pivotal issue like X-Men #108 will garner the demand it deserves. The book belongs in any collection with a focus on books that signaled a change in the course of the medium, I'd put it in a box with Amazing Spider-Man #96, Detective Comics #395 and Daredevil #158. All must have's for reasons other than 1st appearances or covers, all influential well beyond their immediate impact.
So John Byrne helped save comics with his commitment to Wolverine and the rest of the X-Men but the man didn't stop there, he moved on to an epic and era defining run on the Fantastic Four and then made great contributions to a tired and staid Superman.
Reading Dennis's post made me realize that time has past and that Byrne, ever the current an contemporary as I was making my journey through comics, has moved on into the realm of legend, he is indeed now one of the giants.
The back issue market is indifferent to X-Men #108, CGC 9.4 copies sell below the 9.2 Guide price. The book is sought after because it's Byrne's jump on point but it's obvious the significance of the event has not been fully embraced by the market, yet.
The 47th Overstreet price break for this book is $49/$92/$135 in the 8.0/9.0/9.2 grade splits.
Reasons to buy this comic book as an investment:
John Byrne begins his X-Men run
A pivotal book, an important marker in comics
Embedded in the iconic and highly collected X-Men #94 to 143 run