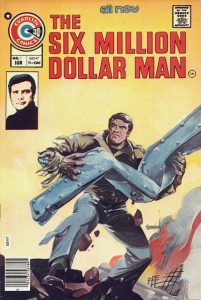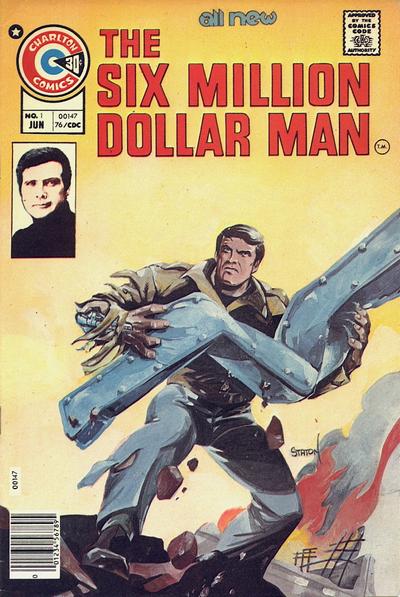 Six Million Dollar Man #1, Charlton Comics, June 1976.
I've always thought American popular culture transitioned in 1976, before – it was all denim, sunshine, split ends and 15 minute drum solos, after – it was all polyester, bad lighting, styling gels and drum machines. Comics made the transition too, just look at any book from say 1973 and then one from 1979 and you'll see what I mean. For me the change in comics was both welcomed and un-welcomed, I much prefer the aesthetics and style of the early part of the 1970s but I much prefer the writing and storytelling that was starting to emerge in the late 1970s.
These thoughts came to me while I was sorting a box of 70s Charlton Comics. I hit on a big run that was destined for the Bargain Bins, thank goodness the run was broken up by this week's Undervalued Spotlight pick – The Six Million Dollar Man #1.
The Six Million Dollar Man #1 features Steve Austin's (the Six Million Dollar Man) 1st comic book appearance. The book definitely belongs in the pre-1976 pile if you were ever to start sorting that way. Joe Staton's gorgeously painted warm sepia tone cover just screams sunshine and split ends. I've always liked Joe Staton as an artist, his pencils and inks inside the book are top notch.
The Six Million Dollar Man is a fantastic concept that is way more relevant today than it was back in 1976. Warner Brothers is updating the premise for the big screen with a major motion picture starring Mark Wahlberg. There are so many ways this movie can be done right and my read is that they will do it right. I think this couple be a movie franchise character.
Warner Brothers have pushed back the release date of the Six Billion Dollar Man movie to June 2020. Look on the delay as an opportunity to snag yourself some great vintage Six Million Dollar merch.
Recently a CGC 9.6 sold for $100 while a CGC 9.2 fetched just over $50 and prices seem to be trending down. I like the CGC 9.6 graded for this book, get yourself a White pager and you'll have one of the top 30 around and at today's prices you'll get it for a steal!
The 47th Overstreet price break for this book is $17/$26/$35 in the 8.0/9.0/9.2 grade splits.
Reasons to buy this comic book as an investment:
1st appearance of Steve Austin in comics
Great concept that is about to be updated with a major motion picture