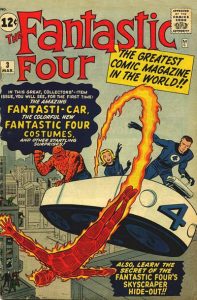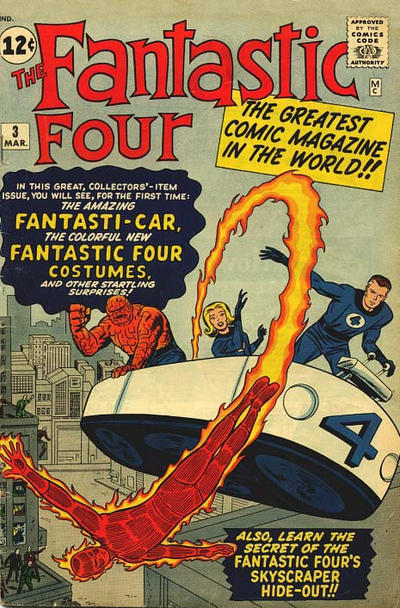 Fantastic Four #3, Marvel Comics, March 1962.
There are very few titles hotter than Fantastic Four at the moment, the 1st issue is officially out of reach for the most of us while issues #4 (Sub-Mariner re-into) and #5 (Doctor Doom intro) are among the most speculated books in the hobby, even #2 with it's into of the Skrulls is scorching hot with a CGC 8.0 copy recently selling for close to 3x Guide. I've deservedly featured all of the above in past spotlights and today I'm closing out the first 5 issues of Fantastic Four by selecting Fantastic Four #3 as this week's Undervalued Spotlight.
This is not a 'fill in the blank' pick, there are no initial title runs that compare to the 1st five issues of Fantastic Four.  These early issues bring so much weight and carry such diversity in content that one could argue that the Fantastic Four banner is the only thing knitting these books together. Of course that's not the case but Fantastic Four #3 does have this singularity to it, the book is a neglected monster if you ask me.
Fantastic Four #3 is Marvel's 1st costumed hero comic, it's the template for all after it. In March 1962 there was no Marvel in any sense of the word, there were just the two Fantastic Four issues that came before it. Hulk was a couple of months away while Thor and Spider-Man were even farther out. Hank Pym as Ant-Man was just some sci-fi story told in an anthology series.
With Fantastic Four #3 Stan Lee and Jack Kirby defined the road forward, costumed heroes done the Marvel way. They knew they had it, boldly proclaiming Fantastic Four "The Greatest Comic Magazine in the World" – changed in the next issue to the now famous "World's Greatest Comic Magazine" banner.
Like I alluded to above, all the early Fantastic Four issues are selling for multiples of Guide in the mid/high grades but Fantastic Four #3 is actually selling for well below Guide. Recent sales of CGC 7.0, 7.5 and 8.5 copies all earned well below their Guide values though a recent CGC 8.0 did get about 20% above Guide. Scarcity is about the same as Fantastic Four #2, there are 74 copies of Fantastic Four #3 graded ar CGC 8.0 or better out of a total Universally graded Blue label population of 699 as of this post.
The Disney/Fox deal has obviously ignited much of the Fantastic Four run and I have a strong feeling Fantastic Four #3 fever is coming soon.
The 47th Overstreet price break for this book is $1050/$3100/$8050/$13000 in the 6.0/8.0/9.0/9.2 grade splits.
Reasons to buy this comic book as an investment:
Fantastic Four don costumes and get headquarters
Brief Origin
1st appearance Miracle Man (villain)