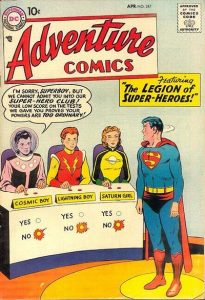 Adventure Comics #247, DC Comics, April 1958.
I've never been a big fan of DC's early Silver Age relaunch books but I'm well aware that I speak to an empty room. The room is empty because everyone is out buying their Showcase #4's, their Showcase #22's and their Brave and the Bold #28's. These are great books and I recognize their importance it's just that I think a little too much weight (and value) is given to them. I also think that not enough weight (and value) is given to some early game-changing Silver Age DCs that have true 1st appearances including this week's Undervalued Spotlight Adventure Comics #247.
The collecting community has not been kind to the Legion these last few decades. I remember when Legion appearances mattered, I remember the Guide flushing out issues up until at least the 14th appearance. I used to be able to sell Adventure #267's (2nd appearance) and Action #267 (3rd appearance) as key issues with premiums to the Guide but not anymore, not for a while now.
The Legion of Superheroes is this riddle, this great idea and concept full of promise that DC/Warner own and I'm sure they're trying to figure it out.
In Overstreet's Guide Adventure Comics #247 is the 6th most valuable Silver Age DC, ahead of it are the 3 comics mentioned above and Flash #105 and JLA #1. What Adventure Comics #247 is though is the most valuable and most important original concept/creation of the DC Silver Age. Adventure #247 is THE big DC Silver Age book that is not a re-imaging intro, not a new title launch and not a related character creation (Supergirl). The next big DC book that qualifies is the distant second Showcase #6 (Challengers of the Unknown) which holds about 40% of the value.
If this is the big original concept DC book of Silver Age, which historically it has been, then I think we're about to see a value appreciation.
Adventure Comics #247 is notoriously tough in high grade, as of this post there are only 19 in CGC 7.5 or higher. Recent sales of CGC 8.5s go something like this: Showcase #4 CGC 8.5 – $155,000, Showcase #22 CGC 8.5 – $60,000, Adventure Comics #247 CGC 8.5 – $19,000. Scarcity at CGC 8.5 is about the same for all three books 12, 9 and 9 respectively.
The market has realized Adventure Comics #247 is undervalued, over the past 2 years we've seen price increases of 25% to 40% across grades but I feel the book has a lot more room. Adventure Comics #247 is an iconic issue, it has a classic recognizable cover that has been imitated countless times, it is a heavy enough key that has its own gravity and the market has been nothing but kind to big important books like this.
There is a two-decade stigma to shake off but the market has begun to do that, Adventure Comics #247 is a must have key.
The 48th Overstreet price break for this book is $3,000/$7,500/$15,750/$24,000 in the 6.0/8.0/9.0/9.2 grade splits.
Reasons to buy this comic book as an investment:
1st appearance Legion of Super-Heroes
DC's most valuable original creation Silver Age book