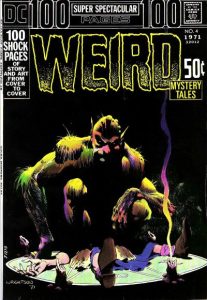 DC 100 Super Spectacular #4 Weird Mystery Tales, DC Comics, 1971.
In today's Undervalued Spotlight we go back in time to Bronze Age big comics, I mean 100 pages big, and the very beginning of DC's 100-page comic era that began in the summer of 1971 and produced 118 one hundred page comic books over the next 3-4 years.
Our spotlight book today DC 100 Super Spectacular #4 Weird Mystery Tales was the first book published in this new format. I know it seems a little odd a title beginning with a #4, but this is the first issue of the series. DC 100 Super Spectacular ran until issue #22 November 1973 and was cancelled. The DC 100 format then moved into the regular continuity of nineteen DC titles including House of Mystery, Batman, the Justice League and many others. Besides being a pseudo number one issue, in this very popular series of books, our spotlight book has other positive attributes as well.
First and foremost a truly horrific and terrific monster cover by artist Bernie Wrightson. This monster does evoke a bit of a visceral, gut-churning feeling when you first look at the death scene on the cover. I love it when horror covers can do that to me. A big bonus for me here is that this book and all of the first series of DC100's come with a wrap-around cover. On the back page is the matching cover to the front cover without any lettering, even darker and creepy looking than the front cover. Simply awesome! As an aside, all of the wrap-around covers are pretty cool and are tailor-made for slabbing or those new transparent backer boards. The book is also a very good read. It contains twelve different stories from House of Mystery, House of Secrets, early My Greatest Adventure comics and others.
DC 100 # 4 Weird Mystery Tales is now an established minor key in the very popular and collectible DC Bronze Age horror genre. It almost cracked Overstreet's newly expanded Bronze Age Top 25 in this year's guide. This book's popularity is a somewhat recent event given that it is forty-seven years old. You could buy a mint copy of the book in 1993 for less than five dollars (I did and later traded it away -doh!). The book seemed to be "discovered" in the late '90s and has risen steadily since then. The combination of popular art and artist and horror comics seldom goes out of style in the comic book medium.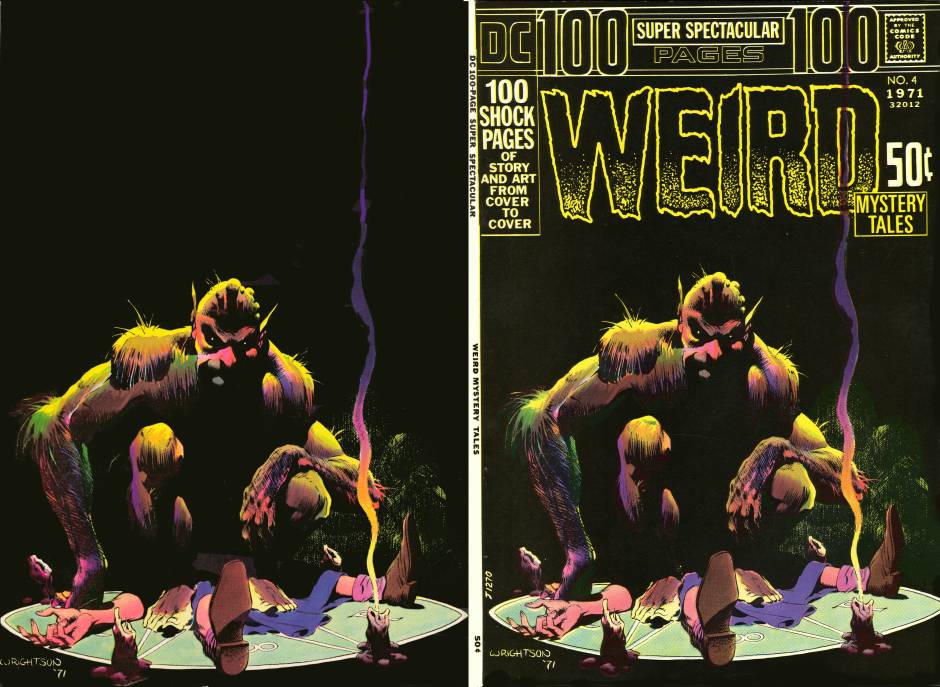 There are just a little over one hundred universally graded copies of DC 100 Super Spectacular #4 Weird Mystery Tales in the CGC census. The likelihood of finding more high-grade copies is going to be tough given the all-black front and back cover on this book. Try and find an 8.0 and move up when you can. Good Luck! Current 48th Overstreet Price guide splits are 8.0 $168, 9.0 $372, 9.2 $575. Reasons to buy this book:
First issue in DC's popular 100 Page Super Spectacular format.
Firmly embedded as a minor key in DC's popular and collectible Horror genre.
Awesome Bernie Wrightson cover front and back.