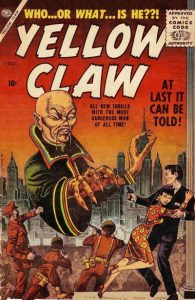 Yellow Claw #1, Atlas Comics, October 1956.
News came out this week of some potential movie plans for Shang-Chi the Master of Kung Fu so I tried to pick a book that could benefit from this. I didn't want to go with Special Marvel Edition #15 though in its own right it is a must-have.
Some poking around and asking around led me to several strong candidates and in the end, I picked one with minimal connections to Shang-Chi but with undeniably maximum potential. This week's Undervalued Spotlight shines on Yellow Claw #1.
Yellow Claw #1 was published by Atlas Comics in October of 1956 and it features the first appearance of the villain Yellow Claw. Plan Tzu is his real name and he is said to be a descendant of Genghis Khan himself. Yellow Claw is one of those evil masterminds who thanks to some home-brewed elixirs happens to be 150 years old. If age does bring wisdom then Plan Tzu must be a pretty good mastermind, of course, I can argue that added wisdom should have shown him the error in his ways but that train of thought is of no help in this post.
According to Comic Vine, Yellow Claw has made 127 appearances in comics to date. He is one of the few Atlas characters to transition out of the pre-Marvel Atlas era into the Marvel Silver Age (Groot, Fing Fang Foom are two others) as he reappeared in Strange Tales and then had appearances in Iron Man and Captain America. My tie to Shang-Chi comes in his appearance in Giant-Size Master of Kung Fu. The spec here, of course, is that the Yellow Claw may be a natural villain for the Master of Kung Fu film.
I could be mistaken but he may be the first villain with his own title and if not the first then he is surely one of the first to do so.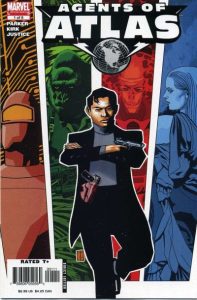 Sharing the cover of Yellow Claw #1 is the character Jimmy Woo, Jimmy is an F.B.I. agent tasked to stop the Yellow Claw's devious plans. Jimmy Woo is actually the more successful survivor out of the Atlas era with 254 appearances to date. He's famously featured on the cover of 2006's Agents of Atlas #1. Jimmy Woo is also a natural character to include in any Chang Chi film.
There is also the issue of current world geopolitics. China's economic and military rise over the past two decades has led to a sadly inevitable adversarial position vis a vis the United States. The Yellow Claw was born out of the Red Communist scare of the 1950s but he's easily tweaked to fit into today's geopolitics.
Yellow Claw #1 offers up two very strong first appearances both with good potential going forward. The markets are ho-hum on this book with a recent CGC 7.0 fetching $1025 (2nd highest graded) and a CGC 6.5 fetching $858. I saw a raw 3.5 available online for in the $300s.
The 48th Overstreet price break for this book is $992/$1696/$2400 in the 8.0/9.0/9.2 grade splits.
Reasons to buy this comic book as an investment:
First appearance Yellow Claw
First appearance Jimmy Woo
One of a few Atlas characters to successfully transition to Marvel