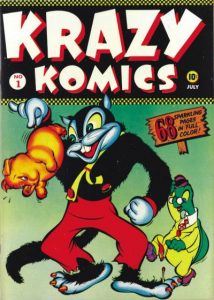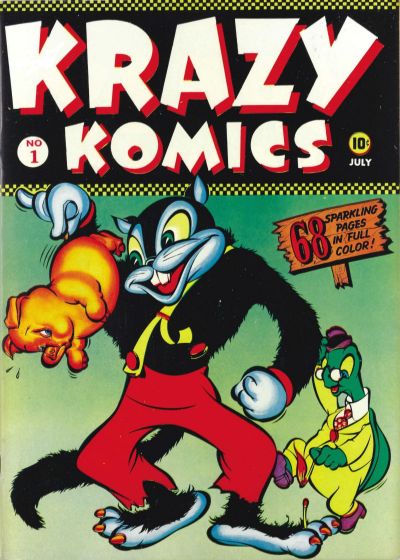 Krazy Komics #1, Timely Comics, July 1942.
Happy New Year! I hope 2019 brings happiness, health and a few undervalued gems to everyone.
This week's Spotlight came to me when I read Marvel was doing Skrull Variant covers for their books shipping in February 2019. I love Skrulls so I read the list of titles getting the Skrulls treatment and paused when I saw Ziggy Pig and Silly Seal #1 was getting a Skrull Variant.
What's a Ziggy Pig? After a few minutes of poking around the internet and the Overstreet Price Guide, I knew this week's Undervalued Spotlight had to be Krazy Komics #1.
Krazy Komics #1 features the 1st appearance of Ziggy Pig and the 1st appearance of Silly Seal. Note that the two characters made their 1st appearances in separate solo stories, they would team up as a feature later on in the title.
Both Ziggy Pig and Silly Seal were created by the great Al Jaffee. Jaffee is one of the most iconic cartoonists of the 20th century. I read that over a 50-year span (something like 600 issues) of Mad Magazine only one issue didn't have original Jaffee content. Al Jaffee was most famous for creating the fold-in back covers for Mad Magazine doing his first one back in 1964.
The cool thing about the Timely funny animal stable is that they were created specifically for comic books so these issues represent the characters' true 1st appearances. Disney and Warner Brothers had great success transferring their stable of funny animal characters from film to comic books and definitely had the upper hand on character awareness but the Timely characters sold well and titles like Krazy Komics had good runs.
Ziggy and Silly actually appeared in 2009's Marvel Adventures: Fantastic Four and popped up in odd issues like 1984's Marvel Fumetti #1 (now there's another reason to pick up Fumetti #1 other than the great Stan Lee photo cover).
Ziggy Pig and Silly Seal #1 will be available in stores February 27th, 2019 and I have a feeling that it will be very well received. An explosion of awareness for the characters should bring an increase in demand for older comics associated with the characters including the book containing the 1st appearance, nothing trumps 1st appearances. A warm reception may even usher in new opportunities for the team, Peter Porker? Pure speculation I know but could there be a Funny Animal revival in the works? What the heck would be next? Hot Westerns? Madness!
The 48th Overstreet price break for this book is $864/$1482/$2100 in the 8.0/9.0/9.2 grade splits.
Reasons to buy this comic book as an investment:
1st appearance Ziggy Pig
1st appearance Silly Seal
Created by the great Al Jaffee