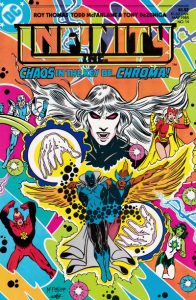 Infinity Inc #14, DC Comics, May 1985.
This week's Spotlight came to me as a friend and I were debating Spotlight #427 which I posted 2 weeks ago. The argument went something like this – in this day and age where the cover rules and where encapsulating a book leaves the rest of the book's merits known but not seen, are first covers by artists undervalued vis a vis that artist's first comic artwork?
With the argument still fresh in my mind I present Infinity Inc. #14 as this week's Undervalued Spotlight.
Infinity Inc. #14 boasts a beautiful cover, it's the first cover drawn by Todd McFarlane. Mr. McFarlane is one of the more important artists of the modern age of comics and his covers enjoy lots of demand. Recently I was lucky enough to pick up Todd's Spawn run of homage covers. Spawn #220 to #231 all had homage covers to famous issues like Todd's own Batman #423, Amazing Spider-Man #300, Hulk #340 as well as other famous covers like Action #1 and Amazing Fantasy #15. The comics flew out of the store and at strong prices too.
Todd McFarlane is a popular artist with lots of fans so it's no surprise that his first work in comics Coyote #11 (March 1985) enjoys strong demand and an Overstreet value in the 9.2 grade of $24. CGC 9.8 copies of Coyote #11 have sold for $150. By contrast, Infinity Inc #14 which again is his first cover has a guide value of $12 and the last CGC 9.8 sold in March 2018 for $37 (I should note that things seem to be correcting as a CGC 9.6 just sold for $75).
How about other modern artists like say, Adam Hughes? Cover artists are known for their covers and I'm arguing their first covers will be more sought after than their first backup story.
Infinity Inc. #14 is an easy bite-sized morsel you can probably still dig out of bargain bins. Look for tight crisp copies because if you score a CGC 9.8 I think you'll do a lot better than the person that got $37 for theirs.
The 48th Overstreet price break for this book is $8/$10/$12 in the 8.0/9.0/9.2 grade splits.
Reasons to buy this comic book as an investment:
First Todd McFarlane cover
Super duper cheap
Fantastic looking cover with lots of pop