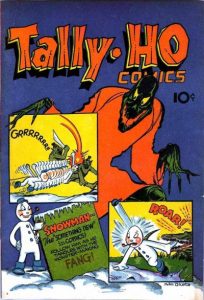 Tally-Ho Comics #nn, Swappers Quarterly, December 1944.
My friend Christian was so excited about a recent comic he picked up that he had to call me and tell me all about it. At about the 8-minute mark, I was starting to come around and after about 15 minutes he had me convinced, Tally-Ho #nn was going to be this week's Undervalued Spotlight.
We've just started a new feature on Comic Book Daily called Covered, 365 and in it, we celebrate all things great about covers. Tally-Ho #nn then has to be noted as an anti-cover pick since the meat of my argument hangs on the fact that this book contains the first comic book work by Frank Frazetta.
One can argue that Frank Frazetta may be the greatest talent ever to work in comics, while he didn't produce a lot of volume he sure made up for it in quality. And speaking of covers he's certainly left a legacy of great covers.
After doing a bit of research I was strongly considering picking Treasure Comics #7 from 1946 for my pick. As far as I can tell Treasure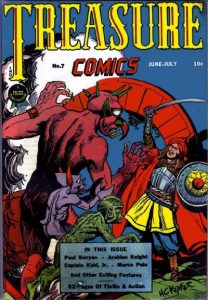 Comics #7 contains Frank's first inks and pencils while Tally-Ho has young 16-year old Frank Frazetta's inks on John Giunta's 8 page Snowman story. John Giunta was no slouch, he produced a lot of pre-code horror art for titles like Chamber of Chills and Tomb of Terror. So I'll definitely add Treasure Comics #7 as the extra add on Undervalued this week.
As I noted above my pick of Tally-Ho #nn goes a bit against the grain of the current climate of cover worship but it satisfies the still strong and perpetual strain of idol worship. Frazetta is a beast, an absolute monster of an artist, a comic book god who has a limitless supply of casual fans and an enormous amount of hardcore fans.
The best and most interesting comic book collections are those rich in a variety of eras and genres. Owning Frazetta's first published work instantly raises the profile of any comic book collection.
Tally-Ho #nn is scarce but it does trade and it trades surprisingly light in my view. In 2017 there was a CGC 5.0 that sold for $335 and a CGC 6.5 that sold for $406. The bargain of the year though had to be back in 2015 while some lucky stiff picked up the CGC 9.6 Signature Series (signed by Frank Frazetta) Mile High copy for $6500. There are 17 CGC graded as of this post. While There are no sales in the last decade for any copy of Treasure Comics #7.
The 48th Overstreet price break for this book is $371/$636/$900 in the 8.0/9.0/9.2 grade splits.
Reasons to buy this comic book as an investment:
1st Frank Frazetta work in comics