Showcase #1, DC Comics, March/April 1956.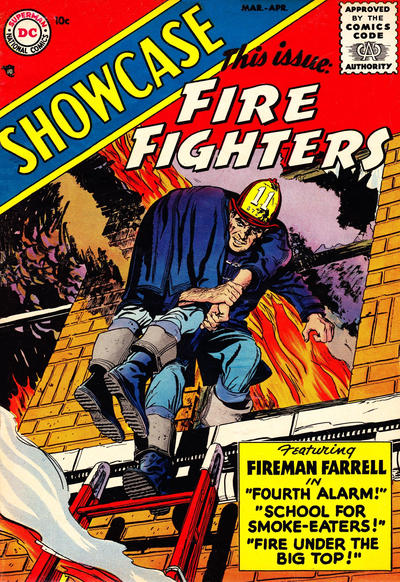 DC's Showcase comics run was an extremely important title that was instrumental in transitioning comics from the pre-code comic book free for all to the post code re-alignment that led back to an eventual super hero led industry. This week I'd like to shine the Undervalued Spotlight on the comic that launched this seminal run, Showcase #1.
Showcase #1 boasts a fantastic John Prentice cover, I've seen nice high gloss samples of this book and the deep reds are striking.
Showcase #1 features the Fire Fighters and introduces the character Fireman Fred Farrell Jr. DC has revisited Fireman Farrell a few times since, namely in Crisis on Infinite Earths #7 (10/85) and in Batman & Superman: World's Finest #4 (7/99) where we learn that Farrell is now the Captain of the Metropolis Fire Department. This sporadic use of the character leaves just the right amount of room for good future potential. It would not have been good if DC had abandoned him altogether nor would it have been good for our speculation on this issue had DC tried to develop the character further. As is stands Fireman Farrell is an obscure but entrenched part of DC canon leaving all kinds of potential for the characters future use.
The folks are Warner are learning from Marvel's successful dusting off of old stable characters and while nothing may be imminent for Fireman Farrell I love the positioning of the character. Metropolis, fire fighting, a heroic figure who's fireman father fell in the line of duty, these are good building blocks.
So if you add up a great cover, a character with some potential and a symbolically important issue in comic history we end up with a comic book that should enjoy much stronger demand than if has historically enjoyed. Though there is some recent movement on this book I'm saying there is tons of appreciation still to come. Showcase #1 should be seen as an important key, it's stature should be greater than the one it currently holds.
I'm thinking a solid CGC 6.0 Off-White/White with a high gloss should do the trick.
The 48th Overstreet price breaks for this book are $945/$2600/$5900/$9000 in the 6.0/8.0/9.0/9.2 grade splits.
Strengths that make this comic a good long-term investment are:
Launch of DC's epic and very pivotal Showcase title