Solar, Man of the Atom #3, Valiant Comics, November 1991.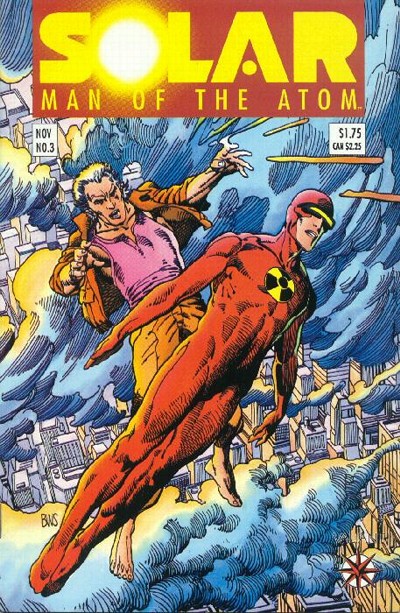 I was set up at the Toronto Comic Con this past weekend and enjoyed talking comics will all sorts of comic fans. Cons are a great opportunity to get out of the house, eat way too much, drink way too much and if you do it right, have way too much fun.
Cons are also an opportunity for me to talk comics and get some good suggestions for future Spotlights that may be out of my wheel house. I did some good work this weekend because I came away with a few choice suggestions.
Super Valiant fan Stan gave quite a passionate argument for, Solar, Man of the Atom #3, so it has to be this week's Undervalued Spotlight pick.
Solar #3 features the 1st appearance of Toyo Harada who is the primary antagonist in Valiant's Harbinger series. Harada's 1st appearance actually pre-dates Harbinger's by a couple of months (though the Overstreet Guide has Harbinger introduced in Solar #3?). Stan let me know that Harada is also a major player in the larger Valiant universe,and someone who will be a major part of any future development of the Valiant properties.
Jim Shooter built built the Valiant brand the way his mentors Stan Lee and Jack Kirby built Marvel, one character and one story at a time. Eventually the brand grew very popular and there was pressure from management to capitalize and grow the company faster. Shooter favored the slow and steady approach knowing an army is only as strong as it's supply lines. Shooter was ousted and this basically marked the beginning of the end for the company, even though they made a lot of money for the next year with outrageously high print runs and speculators running around trying to buy every copy they could (based on the pre-unity values at the time).
Valiant is a hot property these days with a Bloodshot movie currently in production starring Vin Diesel and other projects in development so I see a lot of potential with this pick.
Looking at the market for Valiants we see Harbinger #1 and Solar #10 (1st Eternal Warrior) both fetching around $900 in the CGC 9.8 grade, census scarcity at 9.8 is 303 and 124 respectively. Other key Valiants like Rai #0 (1st Rai) and Eternal Warrior #4 (1st Bloodshot) can each get $200 on the markets event though their 9.8 CGC census figures are high at 1,331 and 1,050 respectively.
The last CGC 9.8 sale of Solar #3 was $164 and when you look at the 9.8 CGC census number at 164 you see that this is currently a bargain and a great spec book.
The 48th Overstreet price breaks for this book are $19/$30/$40 in the 8.0/9.0/9.2 grade splits.
Strengths that make this comic a good long-term investment are:
1st appearance of Toyo Harada
Great Barry Windsor Smith cover