Fantastic Four Annual #1, Marvel Comics 1963.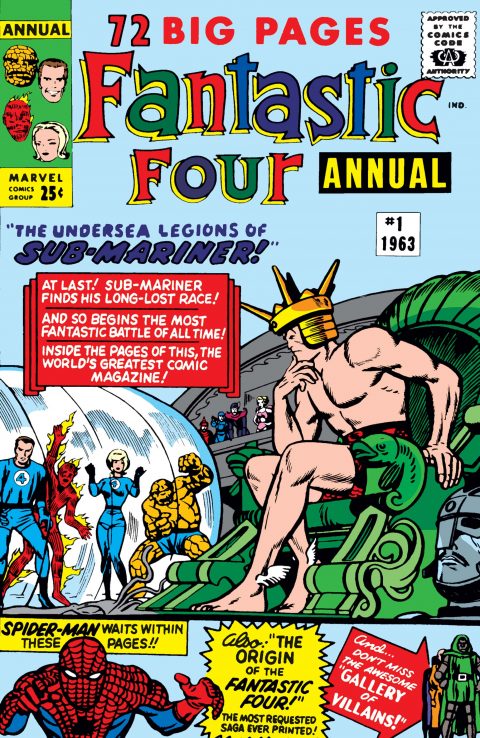 Ok here's a first for Comic Book Daily (I think). After much deliberation I've decided to dust off Mike Huddleston's old Overvalued Overstreet #14 featuring Fantastic Four Annual #1, which he posted almost 2 years ago, and turn it into this week's Undervalued Spotlight.
Mike is coming in next week, and bringing coffees I hope, so I have a week's grace to garner some positive support for my pick in the comments field unless of course you still side with Mike's original call. I recall Mike's post had tons of comments and the views were split.
Fantastic Four Annual #1 has been such a heavyweight in the collecting community for decades but the book seemed to have suffered the double doom of the crappy 2005 and 2007 Fox movie releases and then only to be driven into the ground by the 2008 financial Crisis.
Analysis of prices for the much sought after grade of CGC 9.4 shows the high mark at $5,200 in 2007. Market prices dove after the financial crisis of 2008 with 2009 prices reaching $3,346, 2012 prices reaching $3,198, 2014 prices reaching $3,200 and the latest sale in 2018 reaching $3,346. That is a abnormally narrow value range over a period of a decade.
Scarcity is a positive here, there are only 29 copies graded Universal at CGC 9.4 or better. Simply put the book is just dormant.
But there is so much to celebrate with this issue. The 37-page epic Stan Lee/Jack Kirby story was the longest to date at Marvel. The Sub-Mariner is on the cover and is the principal character in the book and we all know how hot and heavy the spec is on Subby right now. We have Doctor Doom on the cover and he's hotter than hot at the moment. And let's not forget our Friendly Neighborhood Spider-Man and the expanding of the story that was in Amazing Spider-Man #1, technically you don't own all of Spidey #1 until you own Fantastic Four Annual #1! This is a super early Spider-Man appearance too, June 1963 publish date puts this appearance as his 6th? And Spidey is on the cover! Oh my goodness you get the 15 pin-ups and a Marvel first with the Gallery of Foes.
I also like the legend behind the rejected Kirby cover (I've included it here). I know most of us fawn over it but I kind of like the cover they used. As covers go it is not a classic but it is a good Kirby cover filled with very early appearances of characters imortant to all of us.
On the speculation front a lot has changed since Mike's post 22 months ago. The big Disney Fox merger has reignited the Fantastic Four as a franchise, the merger has increased the pop culture prospects for the Sub-Mariner and for Doctor Doom. And who isn't looking forward to Spidey and Johnny Storm trading some on screen jibes.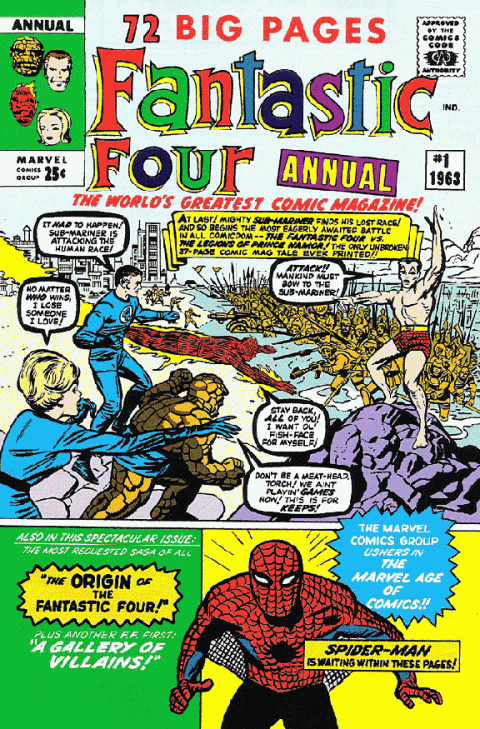 Today you can grab a nice tight CGC 9.2 for less than $2,000. I'm starting to get the feeling that the next CGC 9.2 or 9.4 copy to come to market will make a move, I've noticed none are available in any grades at the moment on the GPA strings and that's a telling sign.
I'm thinking a crisp, square to the corners with lots of gloss CGC 8.0 copy would be a terrific buy at the moment. The last CGC 8.0 sold for $661.
The 48th Overstreet price breaks for this book are $555/$1253/$1950 in the 8.0/9.0/9.2 grade splits.
Strengths that make this comic a good long-term investment are:
Origin Sub-Mariner
First silver age appearance of Atlantis and the Atlanteans including Lady Dorma
New add-on material to Amazing Spider-Man #1
Spidey/Doc Doom/Sub-Mariner cover
Epic Kirby/Lee 37 page story