Star Wars: The Force Awakens #1, Marvel Comics, August 2016.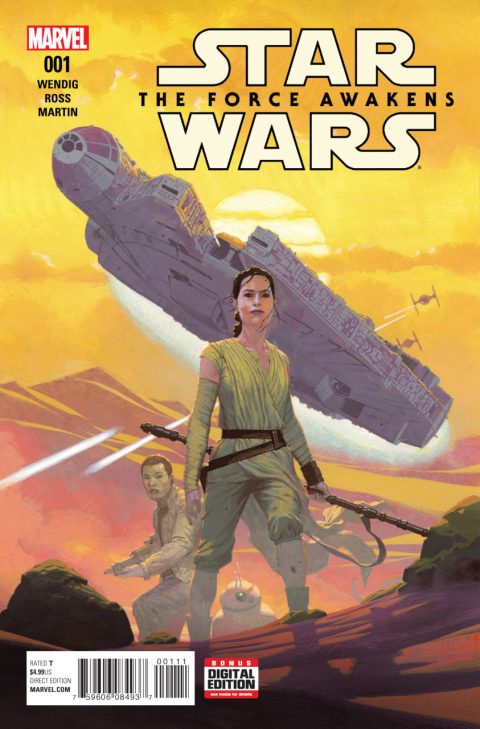 My pal Chris is a life long Star Wars fan and him and I ended up talking about the 35 cent Star Wars #1 and how crazy the prices are for that thing. I've long conceded that I'm wrong on the 35 cent #1, the market absolutely loves that book. Chris and talked about what books in the old Star Wars run are worth money, #1 obviously, a CGC 9.8 of the regular 30 cent cover can go for $1,000 which is crazy when you consider that there are tons of those things around, the CGC census on 9.8s for #1 is 559 as of this post. The next book that came to mind was Star Wars #42 which features the first Boba Fett in comics.
Chris and I were spitballing looking for another issue in the run that might be a Spotlight candidate. Star Wars #1 and #42 get most of their values from being first comic book appearances of major characters. It was over Chris' head that the Undervalued Spotlight bulb went off and it was shining right at Star Wars: The Force Awakens #1.
Star Wars: The Force Awakens #1 is part 1 of a mini series that adapts the Force Awakens film into comics, much like Star Wars #39-43 adapted Empire Strikes Back in the early 1980s.
It's obvious to see where I'm going with this.
CGC 9.8 copies of Boba Fett's first appearance in Star Wars #42 are fetching just under $500 even with a census population of 211 copies.
Star Wars: The Force Awakens #1 is selling for $50 at the 9.8 CGC grade even though there is current scarcity with only 17 graded as of this post. Even one of the variant covers is only getting $55 at CGC 9.8 and there are even less of those with 12 9.8s on the census.
We've discussed this before, characters like Conan, the Star Wars gang, Scooby Doo etc can and have made successful crossovers into comic books and the comics featuring their first appearances in the media are sought after collectibles.
Rey has made 48 comic book appearances since her first in this issue so we can see she's here to stay. Speaking of here to stay, moving forward I think the Star Wars franchise has legs and I think characters like Rey are the natural successors to characters like Luke. Star Wars has become a massively inclusive franchise that is winning over a massively diverse fan base. I think Rey is is a great character to rally around.
Esad Ribic does the main cover and there are variant covers from Joe Quesada, John Cassaday and Phil Noto, there is also a blank cover and a movie poster cover.
Star Wars: The Force Awakens #1 belongs in all Star Wars collections and should be treated ans a key. I think this book has some value growth coming its way in the coming years so run out and pick yourself out a couple of crisp copies.
The 48th Overstreet price breaks for this book are $5 in the 9.2 grade split.
Strengths that make this comic a good long-term investment are:
First appearance of Rey, Finn and Kylo Ren in comics