Famous Funnies #27, Four Color, October 1936.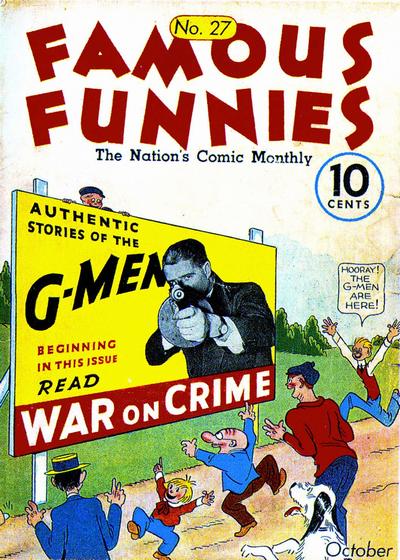 My pal Christian as been quite the source for solid Undervalued suggestions these past few months. His latest offering is a doozy and comes with a nice little story.
Christian was rummaging around the Toronto comic shops and happened upon a run of old, early Four Color Famous Funnies comics. He called me up all giddy talking trash about how he made out like a bandit snagging a half dozen or so early issues including Famous Funnies #29 with that early Santa Clause cover. As I normally do when Christian goes off like this I set the phone down for a minute and go make myself a coffee and most of the time when I get back to the phone he's still talking. Anyway when he finished I asked him what else was there, what did he leave behind? That's when he mentioned this week's Undervalued Spotlight Famous Funnies #27.
For some unexplained reason, Christian did not pick up Famous Funnies #27. "You dope! That's the best book of the bunch! That's the first photo cover in comics! That's the first true crime comic book!" I yelled. We both agreed that he should go back the next day and grab the Four Color #27.
This is where the story gets good, Christian and I have held a lot of comics over the years, lots and lots of six-figure copies, some truly amazing books. This copy of Famous Funnies #27 was a lower grade copy the shop had priced at $45 so it's not like he left an Amazing Fantasy #15 there. The next day Christian went and grabbed the book and a few days later brought it to Hamilton for me to look at. "Walt, I had trouble sleeping the whole night! I kept thinking about that damn book!" he said to me. That's when I knew I had this week's Spotlight.
This is the power of comic collecting, of discovery and of instantly falling in love!
Famous Funnies #27 has a fantastic cover, look at it! It's the first photo used on a comic cover and as I mentioned above it's the first true crime story in comic books. Considering how huge a comic like Crime Does Not Pay #22 is and considering how monstrous the whole crime genre grew to be it's a wonder that Famous Funnies #27 does not hold more value or even have more demand than it does.
The regular feature that began in Famous Funnies #27 was "War on Crime" true stories of G-Men in action that were reprinted from newspaper strips. "War on Crime" was a long running feature and certainly paved the way for Charles Biro and the boys to run with it a few short years later.
The Overstreet Guide has the issue noted as the first true crime but the book is not separated nor given a premium in value vis a vis its neighbours.
The play here is just to find a complete copy, my ploy of offering Christian $50 didn't work so I'm in the same boat as the rest of you desperately wanting a copy. Forget crisp, forget tight, forget gloss and forget the register, just find a copy!
The 48th Overstreet price breaks for this book are $360/$693/$1025 in the 8.0/9.0/9.2 grade splits.
Strengths that make this comic a good long-term investment are:
The first true crime comic
The first use of a photo on a comic cover