Four Color Comics #46, Eastern Color, June 1944.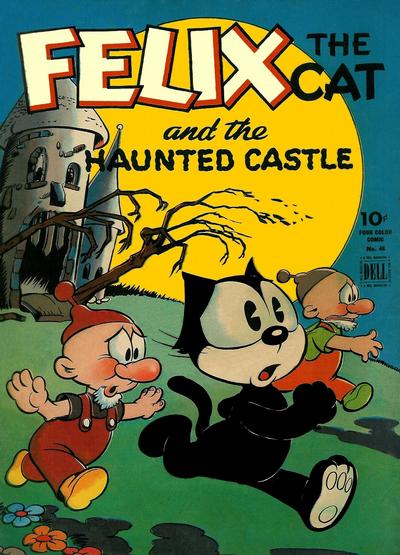 This week's Undervalued Spotlight was again inspired by my current Covered, 365 project. It's been an eye-opening experience and as the days roll by certain trains of thought take me away and one such thought rode me right to this week's Undervalued Spotlight pick, Four Color Comics #46.
Four Color Comics #46 features an amazing cover featuring Felix the Cat and the Haunted Castle.
With this week's pick I'm making a call, I'm saying that the very best covers of the Funny Animal genre from the Golden Age will start to attract fans as more and more collectors gravitate towards superior covers.
This is such an obvious observation, all we have to do is look at the Crime genre and the Horror genre of the late 40s and early 50s and see the massive spike in value the "better covers" have experienced over even the last 5 years. The same can be seen in the Silver Age superhero books.
One of the macro trends of graded comics has been the slow and steady skewing of collecting towards cover appeal. Certainly character introductions are still the main value driver for comics but cover appeal has closed the gap to a much larger extent than I would have ever assumed if I did the thought process a decade ago.
Covered, 365 Day 123 was the book that got me thinking about all this whole thing. There are a lot of great Funny Animal covers that already have high values but these high values came about because of other factors, Carl Barks art (almost guarantees you a great cover), first appearances, #1 issues etc, with Four Color Comics #46 we are identifying an issue with a soft demand character, Felix the Cat, that has always been ignored by the markets. Again, I'm putting it out there that the combing though all genres for great covers will give books like this new life.
As of this post I found three lower grade copies available all for below $100. I'd like to put my money where my mouth is on this book but I'm holding out for at least a 7.0 with some shiny gloss.
The 48th Overstreet price breaks for this book are $289/$657/$1025 in the 8.0/9.0/9.2 grade splits.
Strengths that make this comic a good long-term investment are:
Fantastic Haunted Castle cover
Early Four Color comic