X-Men #9, Marvel Comics, January 1965.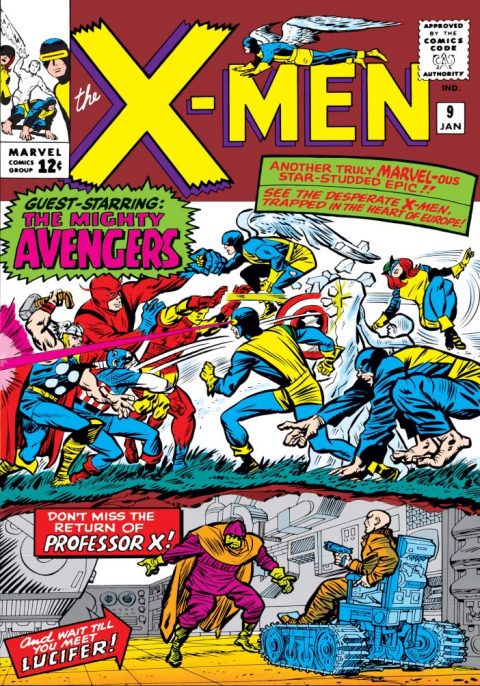 This is a Spotlight I've had lined up for well over a year and yet for some reason I've been slow to post it. Now I actually may be a couple of months late as it seems things are heating up for this week's Undervalued Spotlight, X-Men #9.
X-Men #9 features the 1st meeting between the X-Men and the Avengers. On its own, this fact may not generate tons of excitement from the old comic collecting crowd and indeed this fact has never proven enough to push X-Men #9 to lofty values relative to the issues around it. But we do not live in old comic collecting times, we live in a world where the immensely successful X-Men cinematic universe, which produced 12 films with a box office haul of over $6 billion and includes characters like Wolverine, Deadpool, the X-Men and X-Force are now free to merge with the Marvel Cinematic Universe which produced 22 films with a box office of over $21 billion.
I'll be the first to admit that I don't know what this really means and what it will bring. The market is obviously starting to react to these two worlds inevitably colliding by putting some heat on the comic book that holds the first meeting of these two huge franchises.
The market action seems to be in the lower grades though while high-grade copies look to be surprisingly stale. CGC 9.2 copies were fetching $1517 back in 2017 and a January 2019 sale came in at $1536. A CGC 9.4 copy used to get $2383 back in 2017 yet back in September 2018 one got only $2069. As I mentioned the lower graded posting some May 2019 sales show good 50% jumps over their 2017 results but I honestly think this more a correction to poor Guide values for 8.0 grades, an 8.0 should not be $340 to a 9.2's $1,200.
I'm thinking the play here is a CGC 9.2, try for a White Page copy and try for one with strong gloss and good centering with nice tight corners, if you can pick it up below $2,000 I think it is a good play to see where this whole thing will take us, there would be very little downside if things don't pop like I think they might.
X-Men #9 is a good hold in high grade simply for the fact that it is an early X-Men issue, issues #1-10 of the early key Marvel titles are always going to have strong demand, X-Men is right up there near the front of the pack too when it comes to collectible titles.
It only helps that X-Men #9 can offer up a first appearance, we get the first appearance of the villain Lucifer. We also get a Jean Grey – as Marvel Girl pin-up!
I like the Jack Kirby cover because it is a battle scene and because there are so many recognizable heroes on it. Having the dream creative team of Jack Kirby and Stan Lee produce the 20-page story adds even more reasons to like this book
Current Overstreet splits for this book are $340/$770/$1200 for 8.0/9.0/9.2.
Strengths that make this comic a good long-term investment:
The first meeting of X-Men and the Avengers
Early X-Men issue
First Appearance of Lucifer