Fantastic Four #11, Marvel Comics, February 1963.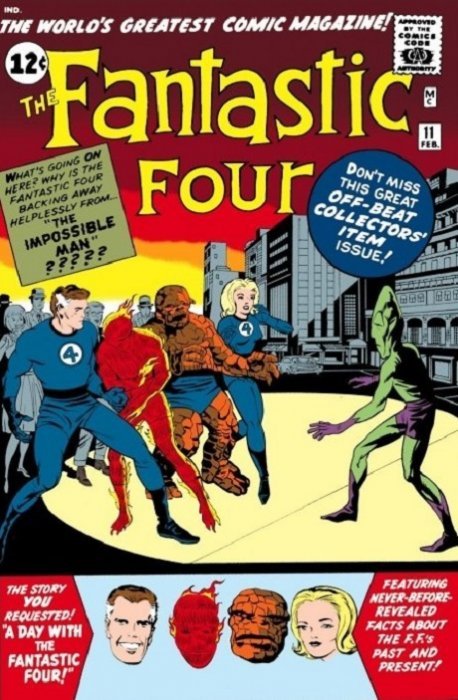 Here's another book I pulled off the "future Spotlight" shelf, it's a book I've owned many times and it just may be the most liquid issue of the Fantastic Four between #6 and #47. This week's Undervalued Spotlight pick is Fantastic Four #11.
It's true what I said above, Fantastic Four #11 is the easiest book to sell in the run between #6 and #47 and this is because at the market prices its been holding over the past two decades the book is seen as and is a bargain.
Fantastic Four #11 features the first appearance of the Impossible Man, a character akin to Superman's Mr. Mxyztplk. Mr. Mxyztplk first appeared in Superman #30, an issue I featured back in Spotlight #359. Comics.org notes that Superman (DC, 1987 series) #50 (Dec. 1990) depicts Mr. Mxyzptlk on a vacation as the Impossible Man harassing the Fantastic Four, with dialogue taken from this issue. This connection is great and only adds to the whole desirability of the character.
Fantastic Four #11 is early days Marvel and this fact alone should be enough to spur value appreciation in the coming years. The fact that is it embedded in the Fantastic Four run, a run with major upside, the fact that it predates Tales of Suspense #39 and Amazing Spider-Man #1, the fact that it is one of the very coveted and highly collected round 12 cent early Marvels all point towards good future prospects for the book.
The markets are choppy and mixed for Fantastic Four #11, a CGC 8.0 went for about Guide at $1235 while solid grades like 6.5 and 7.5 are seeing price drops.
My play here is a CGC 8.0 White pager with stunning high gloss, this book with its deep dark colours looks amazing with high gloss.
The 48th Overstreet price breaks for this book are $1196/$2698/$4200 in the 8.0/9.0/9.2 grade splits.
Strengths that make this comic a good long-term investment are:
First appearance of the Impossible Man
Early days Marvel round 12 cent cover
Predates Tales of Suspense #39 and Amazing Spider-Man #1