Champions #1, Marvel Comics, October 1975.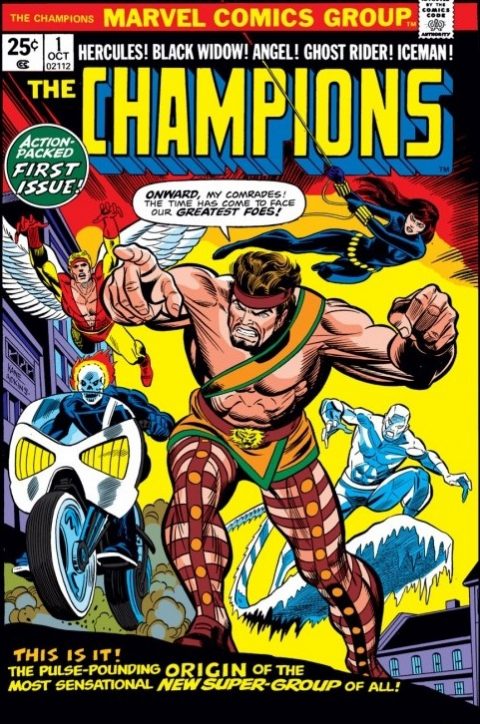 A friend of mine called me up bragging about a great pick up he had off of eBay a couple of days ago. He said he picked up a CGC 9.4 for about 70% of GPA. My pal Christian has a good eye for value and an even better eye for deals, he and I got talking and we both agreed that his pick up, Champions #1 should be this week's Undervalued Spotlight.
Marvel is famous for creating some enduring ensemble teams starting with the team of teams, the Avengers. Marvel then went on to patch a few other characters together and created the very popular Defenders. Marvel even played with time to create the Invaders.
Then in 1975 Marvel teamed the Black Widow, Hercules, Ghost Rider, Angel and Iceman to form the Champions. At the time, in the Fall of 1975, I believe the only character enjoying current success was Ghost Rider (he had his own title). Key Ghost Rider issues are hot on the market today as are Black Widow key issues. At the time Black Widow remained a popular character, she had just finished a co-starring run on Daredevil and Marvel was eager to find a new home for her.
Angel and Iceman rebounded nicely having just been written out of X-Men continuity in Giant-Size X-Men #1 and X-Men #94. The team was rounded out with Hercules who as we all know did a stint as an Avenger and had reoccurring appearances in Thor. You can't beat Hercules for name recognition that's for sure and Marvel does mythology well, I think Hercules is a character they can develop and get a lot more out of, the Marvel way.
Today's markets are ignoring Champions #1, CGC 9.6 copies can get $125 while my pal Christian just picked up a 9.4 for $70. A CGC 9.2 copy of Champions #1 recently sold for $33. The last CGC 9.8 spiked up a bit selling for $388. As of this post, there are only 96 CGC 9.8s of Champions #1.
Champions #1 is too good a book to be languishing like this, it is embedded in the heart of Marvel Bronze Age, it is a #1 issue and boasts the first appearance of a popular team.
A good crop of villains show up in Champions #1, Pluto, Ares, Hippolyta, the Amazons, Mutates, Cerberus and Harpies and join in the fight. How many villains can you squeeze into a comic book? I don't know but the more the merrier, market-wise.
I think Champions #1 is a fun safe pick, you can grab a 9.8 graded copy and not break the bank or you can go on the cheap and grab a 9.4 for next to nothing. Time is on the side of Champions #1.
The 48th Overstreet price breaks for this book are $24/$38/$52 in the 8.0/9.0/9.2 grade splits.
Strengths that make this comic a good long-term investment are:
Origin and first appearance the Champions
Marvel Bronze Age #1s are highly collected comics