Superman: Red Son #1, DC Comics, 2003.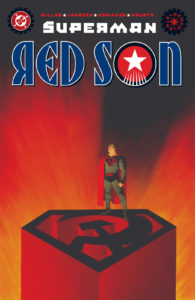 I remember back in 2003 at the Wizard World Chicago Con, I scoured the con and bought up every copy I could find of this week's Undervalued Spotlight, Superman: Red Son #1.
Red Son had just hit the stores and there was good buzz back home, I capitalized and grabbed a few off a dealer who seemed to have plenty and I ended up taking them back home to satisfy a few want lists. Superman: Red Son was a big deal when it came out mostly because of its provocative premise of Superman landing somewhere in Russia and not in Kansas. The storyline possibilities write themselves after that.
The book was hot for a while but then quietly went away. I grabbed a set recently (it was a 3 part story) and threw a tight crisp copy on my wall for $50 (CDN), it went that day and I had a sense right away that I undersold it. I immediately had it on my Spotlight watch more so I think for its stunning cover than anything else.
This past weekend at the San Diego Comic-Con DC announced that they will be developing a Superman: Red Son movie in 2020. Usually, I don't encourage chasing a book once an announcement has been made but I like our chances of grabbing a Red Son at a good price over the next month or so.
As of this post, there are only 79 graded CGC 9.8 which is a very tight supply for such a cool book. This tells me there are some nice tight raw copies still out there, at local comic book shops and at smaller regional and local cons, even raw copies on eBay.
I think we'll need a CGC 9.8 for the long term. According to Comichron.com, there were only 27,655 copies of #1 printed, the print runs for #2 and #3 are actually higher as the title generated a lot of interest when it hit the stores.
I think Superman: Red Son #1 will hit and stick, it will end up nestling in as a high-end collectible along the lines of a Killing Joke #1 or even a Dark Knight Returns #1 but it will be way more scarce.
A CGC 9.8 recently sold for $300 but I don't know what the next 9.8 to hit the market will get, I suspect a lot more and I suspect the prices will stay high.
It won't be easy but it can be done, we can all land that super tight, super crisp 9.8 White pager before things get too crazy.
The 48th Overstreet price breaks for this book are $10 in the 9.2 grade split.
Strengths that make this comic a good long-term investment are:
Fantastic concept
Stunning cover