Amazing Spider-Man #129, Marvel Comics, February 1974.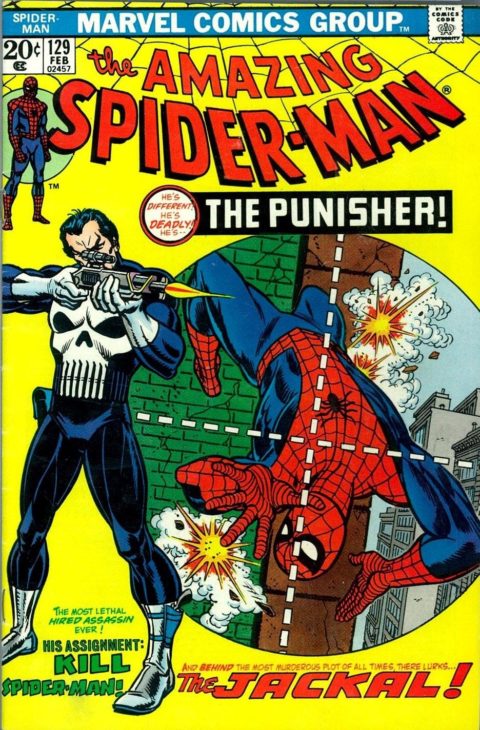 I'd like to come right out and introduce Amazing Spider-Man #129 as this week's Undervalued Spotlight.
Amazing Spider-Man #129 famously features the first appearance of the Punisher, the book also features the first appearance of the Jackal.
Let me gush a bit, Amazing Spider-Man #129 is a true blue-chip comic, a mega key, a cornerstone of the hobby, its comic book currency offering liquidity that only a handful of books can match.
The cover to Amazing Spider-Man #129, featuring Gil Kane pencils and John Romita inks, is the definition of iconic, instantly recognizable across the hobby and even far outside the hobby. This image has become an ambassador for comic books and I can't overstate its importance.
Amazing Spider-Man #129 combines a top tier cover with a top tier first appearance adding up to a top of the food chain collectible.
The Jackal makes his debut in this issue and while the Jackal may not be the Punisher he sure is a heck of a lot more sought after than he was a few years ago, we can expect strong demand for this character in the future.
The Punisher is A list material and the current lull in activity for this book gives us a rare chance to acquire this key at soon to be bargain prices.
I've always loved the Punisher as a character, I think he's a much more versatile character than Wolverine, he's a character that could be written into full out superhero mode or into a more noir crime mode. The fact that the character is this big without really busting through with a key film and or key actor gives me the sense that he is a pent up dynamo ready to pop at any time.
As I alluded to above the market for Amazing Spider-Man #129 is inexplicably soft these days. Did you know you can get a CGC 9.4 for under $3000, a friend of mine just picked up one for $2800. By comparison, a CGC 9.4 Hulk #181 (first Wolverine) set a recent buyer back $10,700. It's a scary thought but A CGC 9.4 Hulk #181 is worth almost 4 times what a CGC 9.4 Spidey #129 is worth.
CGC 9.6 prices are similar, an Amazing Spider-Man #129 at CGC 9.6 can be had for less than $5,000 while a CGC 9.6 Hulk #181 will cost you over $13,000. All this while scarcity is comparable (475 ASM #129s at 9.6 or better versus 412 Hulk #181s at 9.6).
As of this post, even Giant-Size X-Men #1 has shot well past our Spotlight book in value. Today you have to pay $5,400 for a CGC 9.4 Giant-Size X-Men #1.
I'm saying that Amazing Spider-Man #129 is a relative bargain at today's prices and I'm saying that this book will soon enjoy a nice price appreciation due to all the above-mentioned factors and due to a character just ripe for continued development.
The 48th Overstreet price breaks for this book are $850/$1275/$1700 in the 8.0/9.0/9.2 grade splits.
Strengths that make this comic a good long-term investment are:
First appearance of the Punisher
First appearance of the Jackal
Iconic cover
A true blue-chip comic