Action Comics #19, DC Comics, December 1939.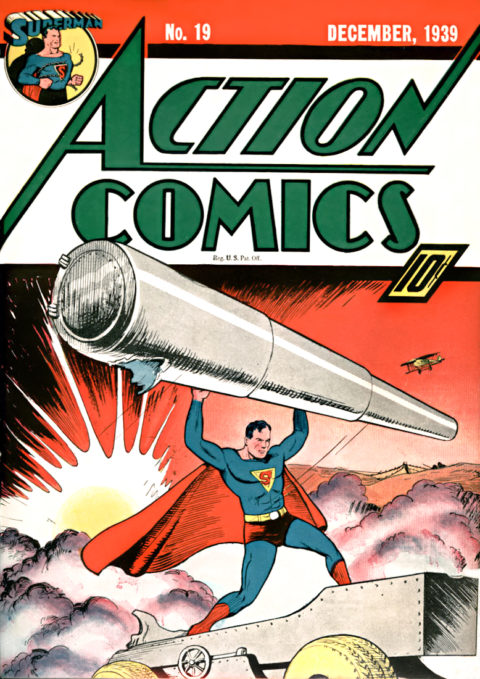 This week's Undervalued Spotlight came about because of an argument over Superman #2. A friend of mine, and a comic book nut, was arguing that Superman #2 should be featured on the Spotlight because it was a 1939 Superman comic. I had a poke around and saw the healthy $70,000 Guide value assessed to it and thought – but this is an all reprint issue! I took that thought out for a little ride and I ended up at this week's Undervalued Spotlight, Action Comics #19.
My argument is simple, Action Comics #19 is a much better book than Superman #2, it has original content and it is the start of constant Superman covers on Action Comics, more importantly, it was published December 1939 making it the last Superman comic published in the 1930s.
Superheroes from the 1930s are the rarest of birds, what do we have, 22 Sups (19 Action, 2 Superman, 1 World's Fair), 7 Bats (Detective #27 to #34), a few Marvel Mystery Comics and some random heroes from DC and Centaur I believe that might have the grand total at around 40 superheroes in the 1930s?
Yes, Flash, Wonder Woman, Green Lantern, Captain America etc all came out in 1940 and beyond.
What does this matter? Well, it seems to matter more and more as the market continuously differentiates, divides and subdivides giving more and more importance to things like age and era.
I'd love a comic with a superhero from the 1930s and Action Comics #19 may give me the most bang for my buck. I get the hero that launched it all, I get an extremely collected title and within the hardcore collecting sequence #1-#23 (first Luthor), where the big boys play.
A Superman #2 in CGC 6.0 just sold for $15,600 while a 5.0 recently sold for $9,200. Why not park a measly $6,600 beside an Action Comics #19 in a solid CGC 6.5! Just want to wade in and own a piece of history? Grab a CGC 2.0 for $1,427 like someone did recently and compare your good fortune to the recent purchase of a Superman #2 at CGC 1.5 for $4,458.
The good news is there are copies of Action #19 around and they do come up for sale and I think the book is a heavyweight in the waiting so don't wait any longer and grab one while you can.
The 48th Overstreet price breaks for this book are $1620/$3140/$4710/$11800 in the 2.0/4.0/6.0/8.0 grade splits.
Strengths that make this comic a good long-term investment are:
One of only 21 Superman comics published in the 1930s
Superman covers begin