Tales to Astonish #27, Marvel Comics, January 1962.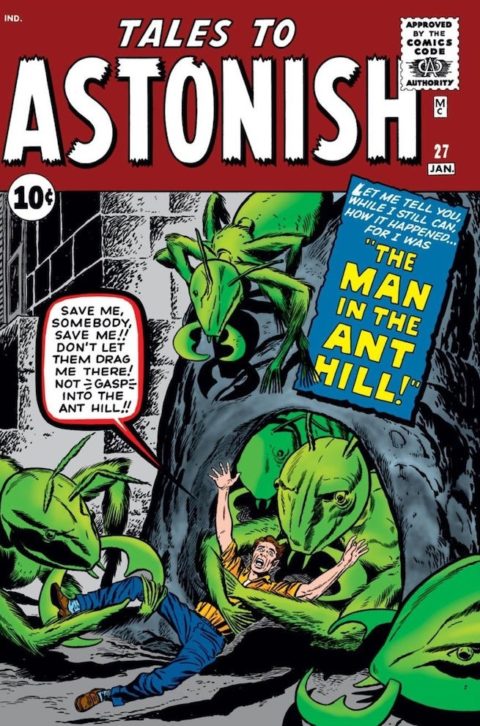 I was talking to someone recently about how stale the big Marvel Keys have been lately. Stale can be a good thing, especially if you're in the market to buy. So what Marvel key is too soft? For me the answer is this week's Undervalued Spotlight pick, Tales to Astonish #27.
Tales to Astonish #27 features the first appearance of Hank Pym, AKA Ant-Man, Giant-Man, Goliath, Yellowjacket even AKA the Wasp. I can't think of a more central character in the Marvel Universe (MU) than Hank Pym, the man has seemingly had a hand in on everything that ever happened in the MU.
While there is no disputing the importance of Hank Pym there is and has been market confusion in pegging a price on Tales to Astonish #27's Hank Pym in the ant hill versus Hank Pym the costumed Ant-Man (that first appeared in Tales to Astonish #35). I think that Scott Lang being the current Ant-Man helps tip things towards more value being put on the Hank Pym character especially considering all the characters he had become. I think we have been focusing too much on the costumed Ant-Man and should put more weight on Tales to Astonish #27 for what it is, the first appearance of one of the most important characters in the Marvel Universe, one of the cornerstone character which the Universe was built around.
Tales to Astonish #27 is also a 10 cent comic making it exceptionally rare, don't try collecting Marvel hero 10 cent books, you'll be done at three books and it will cost you a bundle. Fantastic Four #1 (11/61) and Fantastic Four #2 (1/62) are the only other 10 cent hero books from Marvel. For Marvel collectors at least these 10 centers are important and very exclusive.
So the above argument is more a hunch, a feeling that tells me the book could hold more value, now I'd like to look at some comparative market numbers.
Recent sales of CGC 2.5s, CGC 3.5s and CGC 4.5s all came in under the 2017 market average for Tales to Astonish #27. The CGC 4.5, for example, averaged $2,620 in 2017 but registered a sale this month at $2,355. There were some price increases into the higher grades, a CGC 7.5 sold in 2017 for $9,800 and last month sold for $11,100. The CGC 7.5 grade is an interesting one, there are only 56 copies at CGC 7.5 or better and a copy in this grade gets you into the 7.5% percentile when considering there are 742 graded Universal as of this post. Being in the top 7.5% of any census population and when you consider that generally more valuable and more in demand books get graded having one in that very top tier is a desirable spot to be in.
I compared this to other Marvel keys in grades that deliver approximately a 7.5% percentile of the census population and this is what I found;
Fantastic Four #1, a CGC 7.0 gets you in the top 7.5% but it will cost you about $40,000.
Amazing Spider-Man #1, a CGC 7.5 gets you in the top 7.0 % but it will cost you about $36,000.
Journey into Mystery #83, a CGC 7.5 gets you in the top 8.0% but it will cost you about $25,000.
Tales of Suspense #39, a CGC 8.0 gets you in the top 6.4% but it will cost you about $32,000.
Let's not forget that these books listed above all have higher absolute copies available at their top 7.5% mark and that all, except for Fantastic Four #1, all were published after Tales to Astonish #27.
So the math could tell us that Tales to Astonish #27 has some room to appreciate but it could also tell us what the market thinks of Hank Pym. What I think is that as time goes by the characters stature and importance will only be reinforced. Hank Pym is central, he's a character that is not going to go away.
Brought to us by the ultimate creative team, Stan Lee and Jack Kirby.
The 48th Overstreet price breaks for this book are $1,900/$3,800/$11,550 in the 4.0/6.0/8.0 grade splits.
Strengths that make this comic a good long-term investment are:
First appearance of Hank Pym, the Ant-Man
One of only three 10 cent Marvels
Lee/Kirby creative team