Tomb Of Dracula #18, Marvel Comics, March 1974.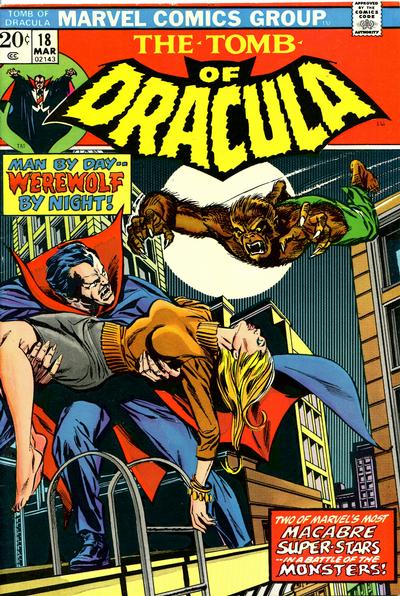 Man the pants I was sporting to school in 1974, light blue with heavily checkered dark blue overlays. I remember it was the summer of 1975 when I got my first pair of jeans… oh yeah, the Spotlight.
This week's Undervalued Spotlight shines on one out of Walt's all-time favourites pile, Tomb of Dracula #18.
I'm a fan of the big three Bronze Age horror titles that Marvel put out, Tomb of Dracula, Frankenstein Monster and Werewolf by Night. Werewolf by Night is probably my favourite of the run but I often bow to how good Gene Colan's art was in Tomb of Dracula.
Tomb of Dracula #18 gives us a stellar Gil Kane cover that deserves to be near the top of everybody's Bronze Age cover must-have list. You get a fantastic action scene with the two principals, Dracula and Werewolf about to do battle, you get a beyond beautiful damsel in distress too and the whole scene is set against a menacing full moon. It's a great cover and one that should flush out and rise to the top as more and more interest comes to all these Marvel horror titles.
The Marvel horror titles are gaining steam in the marketplace and the action now is on the first appearances, Blade appearances etc, we'll soon see the better covers start to get more action, Tomb of Dracula will be one of these covers.
The market is soft on this book at the moment, I wish there were more CGC 9.8's to buy up at $370, even better bargains are the CGC 9.6s selling for $145. Sometimes lack of availability can be a sign that prices are poised for a rise. Holders of the book don't want to let it go for cheap causing pent up demand. I think the next one to auction will have good results. eBay might be a good place for a copy, maybe even at cons. If you are buying raw copies make sure you snag one that is crisp, clean with lots of gloss and a good register.
The 48th Overstreet price breaks for this book are $35/$63/$90 in the 8.0/9.0/9.2 grade splits.
Strengths that make this comic a good long-term investment are:
Great Gil Kane cover and great Gene Colan interior art.
The first part of a two-part crossover with Werewolf by Night #15